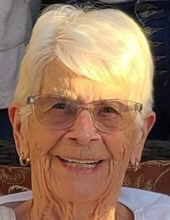 Obituary for Marjorie "Marge" Johnson Cassidy
Marjorie (Marge) Johnson Cassidy, 86, was alert and active until her final days when she passed away peacefully on September 13, 2021, at Advent Health Tampa Hospital. Marge was born on March 15, 1935, in Freeport, New York to Ester & H. W. Johnson (Johnny). She met her husband, John (Jack) Cassidy on a blind date, who preceded her in death in 1986. Marge had two siblings who preceded her death at the ages of 89 and 80.

Marge loved her animals which included three dogs and a cat at the time of her death. She enjoyed quilting into her eighties and ceramics in her younger years. She loved eating out whenever the opportunity arose and family dinners every Sunday with her children, grandchildren, and great-grandchildren. She loved attending dog shows with her daughter and was a huge Buccaneer fan and season ticket holder for 10+ years. She was a devoted reader of suspense novels and had a wonderful laugh that filled a room. She always said what was on her mind and was the life of the party.

Marge spent over 30+ years in Brandon. She was an LPN who attended Brooklyn Nursing School. She worked at St. Joseph's Hospital in Tampa for several years. The majority of her career was at an OB/GYN office and an ENT specialist (both in Brandon), where she retired in her mid-60's. After retirement, she worked part-time for Dillard's Department Store, and as a receptionist for a doctor's office in Plant City. During the lean years raising three children she did extra work with Avon, Tupperware and Amway, and weekends at Brandon Hospital to make ends meet and never denied her family's needs.

Marge is survived by her children, Scott Cassidy, Sr. and his wife Christine, Carol Cassidy, and Steve Cassidy and his wife Linda; four grandsons Scott Cassidy II, Colby, Landon, and Colin; and 4 great-grandsons, Lincoln, Maverick, Jackson and Liam along with many nieces and nephews whom she loved.

Her family will be celebrating her life at a private ceremony on September 25th, 2021. She asked all her friends and loved ones to remember her with a toast when she passed.
Read More
Events