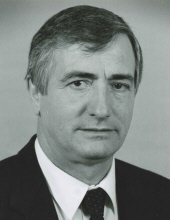 Obituary for Mario A. Saletnig
Mario A. Saletnig passed away on Sunday, January 17, 2021 at the age of 87. His battle with serious medical issues in recent months showed his courage in facing life challenges. Despite the difficulty and pain, Mario fought and stayed strong until the very end mainly for his family.

To his friends and acquaintances, Mario was tough, honest, straightforward, hard working and dedicated. But to his family who knew him best, he was also loving, caring and above all selfless. He always thought of his family before himself, even in the end while he was in the hospital, all he was concerned about was his family. He always made sure they were all okay, it was truly incredible.

Mario was born on May 6, 1933 in Trieste, Italy to Ettore and Paola Saletnig (née Rudes). Mario emigrated to Canada when he was 24 years old to pursue his lifelong passion for the Olympic sport of wrestling. He contributed greatly to the sport during his lifetime and was inducted into the FILA Wrestling Hall of Fame in 2012. Read more about his wrestling accomplishments here: https://wrestling.ca/wcl-mourns-the-loss-of-mario-saletnig/

Mario met the love of his life, Amparo, while at a wrestling tournament in Manizales, Colombia. He always explained it as love at first sight. Together they built a life full of love, support and adventure.

Mario was also an avid collector of stamps, coins and antiques all of his life. A passion and love he proudly passed down to his firstborn son, Paul.

Mario is survived by his beautiful wife, Amparo, his four children: Paul, Patricia, Viviana and Andres, his six grandchildren: Clancy, Caterina, Shane, Christopher, Tiffany and Sebastian, his great granddaughter, Evelyn, his two sons-in-law: Delfino and Gordon, and his older brother, Ettore.

A funeral service mass is scheduled for February 22, 2021 at 10:30 am at the Prince of Peace Catholic Church located at 702 Valley Forge Blvd., Sun City Center, FL 33573.

To watch the funeral service mass through Live Stream, go to this link: https://youtu.be/QwD9RUaq4uc

In lieu of flowers, please donate to a charity of your choosing in his memory and on his behalf.
Read More
Previous Events
Funeral Mass
Prince of Peace Catholic Church
702 Valley Forge Blvd.
Sun City Center, FL 33573