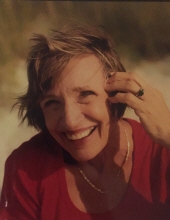 Obituary for Marianne Knox
The daughters of Marianne Knox are sad to announce the death of their beautiful Mother. Marianne passed away peacefully late in the night on March 24, 2018 at the age of 80. She was preceded in death by her husband, Jim Knox after 35 years of marriage, as well as her sister, Lori Kutsukos Nichols. She is survived by her daughters Susan Franceschini (Fred), Donna Gerena (Bobby), and Peggy Hunt (Steve); her grandchildren Lisa Roerdink (Jeff), Ann Stanford, Victoria Franceschini, Joe Gerena (Shayla), Jessica Lee (Steve), and Abby Gerena (Kyle Storey); her eight great-grandchildren Caleb, Brendon, Brett, MaKenna, Faye, Jude, Drew, and Kayla; and her sister, Gwen Statkus. Marianne moved from Chicago, IL to Valrico, FL in 1970, along with her husband and children, to join her sisters Gwen Statkus and Lori Kutsukos Nichols who had previously moved with their families. Although Marianne sustained a birth injury resulting in cerebral palsy, she managed to raise three daughters and run a household while working full time at Hartz Mountain Corp. in Gibsonton for more than 20 years. In retirement, Marianne kept her grandchildren when they were not in school, and was active in their extracurricular activities, as well as in her church, and her singles group. As the grandchildren grew up, Marianne took a job with Walmart in Valrico for 12 years, where she became recognized as the "dressing room lady". Many people, both employees and patrons, would stop by to chat with Marianne because she was a good listener and had a way of making people feel important because she remembered everything about everybody. Marianne never let her disability stand in the way of living life. She may have had to work harder to accomplish tasks that were easy for others, but if she wanted to do it, she did. She loved art, music, dancing, and sports when her children or grandchildren were involved. She volunteered for years at the Care Pregnancy Center in Brandon since she had a passion for helping others in need. She encouraged people to achieve their dreams. She enjoyed spending time with people, especially when there was music and dancing involved. Marianne continued to dance until a few years ago when her cerebral palsy was further complicated by Parkinson's disease, which eventually lead to permanent residency at Central Park Healthcare where she could receive full time care. She was fortunate to have loving family who continued to participate in her care to make sure she had the best quality of life possible. Marianne's skeletal health declined significantly during the last three years of her life, but she continued to have faith that she would one day be freed of her earthly chains and be restored to freedom. There were many discussions about her faith in Jesus Christ and the new body she would receive when He was ready for her to join Him in Heaven. Marianne's family rejoices, even in their sorrow, that her faithfulness has finally been rewarded. A memorial service to honor Marianne's life will be held 11:00 A.M. Saturday, April 14, 2018, at Southern Funeral Care, Riverview, with the family receiving friends one hour prior to services. Guests are invited to a reception at the home of her daughter, Donna, immediately following the service. In lieu of flowers, the family requests donations to the cerebral palsy foundation.
yourcpf.org.
Read More
Previous Events
Visitation
Southern Funeral Care and Cremation Services, Inc.
10510 Riverview Drive
Riverview, FL 33578
Celebration of Life Service
Southern Funeral Care and Cremation Services, Inc.
10510 Riverview Drive
Riverview, FL 33578
Memorial Contribution