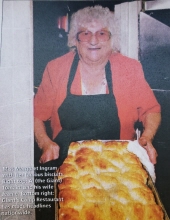 Obituary for Marguerite (Margaret) B. Ingram
Marguerite (Margaret) B. Ingram. Born May 14, 1928 in Tampa, FL, went to be with the Lord November 12, 2020, Hospice House, Ruskin, FL.
She was preceded in death by her, mother, Bernice Hagadorn; father, Daniel Hagadorn; step-father, Pete Hagadorn; husband, James L. Ingram, Sr.; grandson, Timothy S. Ingram and siblings, Daniel, Harry, Donald, Maude, Beverly, Norma, Mae and Helen.
She is survived by her children, James L. Ingram, Jr. (Shirley); Patricia Ingram Grooms (Jim); Alan Ingram and Ronald Imgram; grandchildren, James Grooms (Kim), Teresa Grooms Lynn, Craig Grooms (Vanessa) and Ava Ingram Carver (Tim); great-grandchildren, Tiffany Ingram Hicks, Jeb Grooms, Tayler Figueroa, Devon Grooms, Braedon Lynn, Dante Grooms, Tyler Grooms, Jessie Baldridge, Jacob Baldridge, Desiree Vasquez and Barron Lynn; great-great-grandchildren, Sophia Sparks, Timothy Hicks, Jordan Grooms, Jack Grooms, Kyro Grooms, Jonah Grooms, Elias Figueroa, Lashawn Campbell and Carmelo Vasquez; sister, Marie Drymon and brother, Robert Hagadorn.
Margaret attended Gardenville Baptist Church for approximately 68 years, worked for Hillsborough County Sheriff's Office as a School Crossing Guard for approximately 12 years and the Giants Camp Restaurant as head cook for approximately 35 years. Her biscuits were the best and she was awarded the title of Biscuit Queen and had her name and picture in the newspaper. She will be forever missed by her family and friends.
Read More
Events
Event Information
Services will be set for a future date to be determined.