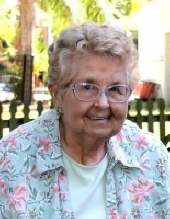 Obituary for Margaret J. Hanna
Margaret J. Hanna

HANNA, Margaret J., 84, passed away peacefully surrounded by her loving family on September 6, 2016 in Tampa. Margaret was a wonderful Christian woman who was loved and admired by all who met her. She was a graduate of Hillsborough High School, Bessie Tift College and earned a Masters Degree in Education at the University of Tampa. As an educator of 34 years, she taught countless children in the Hillsborough County Public School system. She loved her church where she taught Sunday school for nearly 50 years. She and her husband, Carl were active in many church ministries including Meals on Wheels. As a member of Campers on Missions, for 20 years, they traveled to many states sharing their talents and helped others. Margaret is preceded in death by her loving husband, Carl of 61 years. She is survived by her son, Carl Hanna Jr. (Sharon); daughter, Laura Tucker (Bob); The light of her life were her three grandchildren, Joshua Hanna (Sarah), Ethan Hanna (Nikki Lindahl), and Chelsea Tucker.

Funeral Information

A visitation with family and friends will be held at Southern Funeral Care on Tuesday, September 13, 2016 from 5:00 p.m. - 7:00 p.m. The funeral services will be held at the First Baptist Church of Brandon on Wednesday, September 14, 2016 at 10:00 a.m. Private burial will follow.