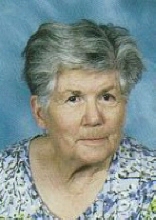 Obituary for Margaret F. McDonald
Margaret F. McDonald

McDONALD, Margaret F., 84, of Riverview, passed away on Sunday, July 5, 2009. A native of Cookeville, TN, she had resided her most of her lifetime and attended Kings Avenue Baptist Church, Brandon. An amazing mother, grandmother, friend and aunt to many, who was always there and will be greatly missed. Her heart was always open to all she met. She was preceded in death by her granddaughter, LeeAnn Coughlin and is survived by her son, James McDonald and daughter, Ann Jones, both of Riverview; 2 brothers, Doulphus Alday, TX and Buddy Alday, Sarasota; sister, Clara Hancock, Valrico; 6 grandchildren; 12 great-grandchildren and 2 great-great-grandchildren.

Funeral Information

Funeral services will be conducted 10:00 A.M. Thursday, July 9, 2009, at Kings Avenue Baptist Church, Brandon. The family will receive friends this evening (Wednesday) from 6:00 until 8:00 P.M. at Southern Funeral Care, 10510 Riverview Dr., Riverview.