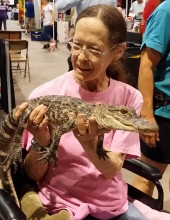 Obituary for Marcia K. Jennings
While Mom did not get to slide into the retort with chocolate in one hand, a mudslide in the other hand and a grin on her face, she did pass peacefully at home with loved ones nearby on June 22, 2020 in Tampa, Florida at the age of 62.

Marcia K Jennings (nee Aussicker) was born on Sept 13, 1957 in Mt Clemens, Michigan. She grew up in Grand Rapids. She spent many years living in Omaha, Nebraska where she raised her only living child. She also lived in New Mexico a number of years caring for two family members and was a member of Bethel Baptist Church in Deming. She then moved to Tampa, Florida to be closer to her daughter in what proved to be the twilight of her life.

She wished very much to see her granddaughter grow up. When she learned she was going to be a grandma her exact words were "About damn time! You made me wait too long!" Her spirit may have been willing, but her body was not.

She was preceded in death by her mother Nancy M Scherer and grandmother Amelia Nowicki, both of Deming, New Mexico. She is survived by her daughter Jennifer Aussicker of Tampa, Florida, and her brother Bruce Scherer of Prudenville, Michigan. She is also survived by her loving partner of many years Ernest Schwab of Tampa, Florida, and her beloved granddaughter "Ellie".

She was cremated at Southern Funeral Home in Riverview, Florida. There will be no funeral and no interment. Her ashes will be handled by her family according to her wishes.

In lieu of flowers, her daughter requests that donations to be sent to Friends of Feline Rescue Center, 14597 Power Dam Road, Defiance, Ohio 43512 in memory of her mother.

Rest in peace, Mom. You will be missed, but you are free from pain.
Read More
Events
Memorial Contribution
Friends of Felines' Rescue Center
14597 Power Dam Road
Defiance, OH 43512