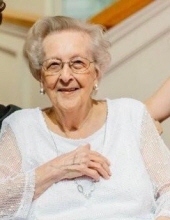 Obituary for Mae Cooke Roberts
It is with great sorrow that we announce the death of our beloved mother, grandmother, great grandmother and aunt, Mae Cooke Roberts. Mae passed away during the early morning hours of Monday, December 20th 2021, having just entered the loving care of Hospice in Temple Terrace, Florida. She leaves this world after accumulating 99 years' worth of family, friends, life-experiences, and memories.

Mae was born on May 14, 1922 in Allendale, South Carolina to Hampton Charles Cooke and Gertrude Cooke. She had 9 brothers and sisters. She loved her family dearly and, over the years, told vivid and beautiful stories about their lives together in Allendale. There were many family trips back to Allendale. It was as if time just stood still, wrapped in never-ending, family-filled joy. Throughout her life, Mae would always be a promoter of family get-togethers - from simple Sunday visits to holiday meals that would make the editors of Southern Living green with envy!

During a trip to Athens, Georgia, she met the love of her life, Hugh Hill Roberts. After a brief courtship, they were married and moved to Lakeland, Florida where they raised their daughter, Ann and son, Hugh Jr. (Whitey). Hugh worked as an Engineer in the IMC phosphate mines and Mae thrived in her role as an homemaker. Mae's children and grandchildren would laugh themselves to tears when they heard about her first shopping trip to Downtown Lakeland. Ever the one for proper etiquette, Mae showed up dressed formally in a fine hat and white gloves and she quickly realized that Florida was a tad less formal than her beloved South Carolina! But she adapted and within a short time, the little place on Carey Street became home. As for Lakeland, the family nearly had to pry it from her hands when it became time for her to live with Ann in Brandon.

As cultural change started to creep into central Florida, Mae kept a stern mother's eye on such new characters as Elvis the Pelvis and the Beatles – even joining a Teen Mothers' Group, just to make sure that they weren't up to anything too crazy. Mae would also show up at school – much to the coaches' chagrin - on particularly hot Florida days with buckets of homemade ice cream for Ann, Whitey and their schoolmates.

After Hugh's death in 1979, Mae used her grit and determination to carry on and had a successful career in banking, insurance sales, real estate and in her later years, retail at Maas Brothers in Downtown. Her grandchildren and great grandchildren meant the world to her and she was always in for fun times like Disney trips, watching the Bucs play, fishing/boating trips, sleepovers, shopping splurges and so forth.

When Mae required extra help with daily living she moved to Rosecastle at Delaney Creek. In spite of the adjustment to losing her independence and the isolation that the pandemic caused, friendships were made with staff and residents. After several terse and instructional conversations with the facility cook, she finally was able to enlighten him as to the finer points of southern cuisine. Her hobbies at this stage of life included crossword puzzles, Bucs games, politics and visiting with family. To the end, her mind was sharp and her recall of past events was truly remarkable. Mae came from a different time and place where oral tradition and narrative ruled the day. In her honor, her family will now carry on those traditions and keep her memories alive until we all meet again.

Mae Cooke Roberts was preceded in death by her husband (Hugh Hill Roberts), parents (Mr. and Mrs. Hampton Cooke) , 4 brothers and 5 sisters, and grandson (Jake). She is survived by her daughter Ann Eatman (Richard Sr.), son Whitey Roberts (Carole), grandchildren Richard Eatman, Jr. (Amy), Michael Eatman, Rebecca Cherry (Jim), Christopher Roberts, Morgan Keeler (John) and great grandchildren Jenna O'Brien (Connor), Justin Eatman, Luke Eatman, and Kennedy Keeler, Sister-in-law, Sally Washington and her family and last but certainly not least, nieces who have showered her with love from near and far especially during her later years.

On behalf of the family, we would like to thank the outward expressions of kindness that so many have sent her way throughout the years. There are too many to list and we are so thankful!

A Graveside Service will take place 10:00 A.M. Tuesday, December 28, 2021, Oak Hill Burial Park, Lakeland.
Read More
Previous Events
Graveside
Oak Hill Burial Park
4620 US Hwy 98 South
Lakeland, FL 33812