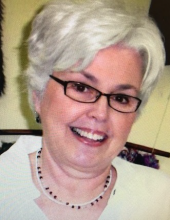 Obituary for Madeleine M. Davis
Madeleine Gertrude Davis (née Mulkern) of Valrico, Florida departed this world for her eternal, heavenly life on May 16, 2022. Born in Elizabeth, New Jersey on January 25, 1942, to Paul and Anne Mulkern (deceased), she spent her early years in her beloved Dedham, Massachusetts and also Waterbury, Connecticut. She achieved the age of 80, a remarkable feat given some difficult health passages throughout a life of dedicated service to others. She passed without pain after a brief illness.

Her loyal husband of 59 years, Wayne Davis (81) survives her, as does her daughter Jennifer Carlstedt, son-in-law James Carlstedt, and grandson Andrew Carlstedt (all of Tampa); and her son Patrick Davis and son-in-law Eric Moorhead (both of Atlanta). She often said her family was "my very heartbeat."

Madeleine was known and loved for her caring nature and rich sense of humor. She excelled at all handicrafts, cooking and baking, and collecting curios that captured her heart and imagination. She was her family's genealogist, historian, and documentarian. An avid and constant reader, she gifted a love of books to her entire family. Her favorite authors were the poet Edna St. Vincent Millay and the humorist Fanny Flagg.

A 1959 graduate of Tampa's H. B. Plant High School, Madeleine attended the University of Tampa and graduated from its affiliated Gordon Keller School of Nursing-Tampa General Hospital in 1962. It was here she met her husband, Wayne, falling for him on a first date to enjoy the Ice Capades. He was captured by her "Yankee" knowledge and wit, and she by his southern charm. They remained unyielding in their commitment to each other through life's twisting and turning journey.

Madeleine proudly maintained her license as a Registered Nurse her entire life and served her family and friends as a valuable source of medical knowledge and advice. She worked briefly in doctors' offices and chose to primarily focus her skills and talents on her family's needs. Long before it became common, she was a steadfast advocate for mental health awareness and care. Later in life, she fervently supported those with Post-Polio Syndrome, a condition she valiantly faced herself. She loved God and served him with her life's caring work and in many other unconventional ways.

Her family extends their deepest thanks to Therese Brine for her generous, supportive care, comfort, and companionship during Madeleine's later years.

In her notebooks, Madeleine wished her friends peace, writing: "Do not be sad. Life was good and we shall meet again."

For those wishing to honor Madeleine's life and memory, the family suggests donations to the MacDonald Training Center in Tampa, Boston Children's Hospital or Joslin Diabetes Center in Boston, MA.

A Celebration of Life will be held for Madeleine on Friday, May 27, 2022, at New Hope Methodist Church at 2:00 PM in the Social Hall. The New Hope Social Hall is located at 121 N. Knights Avenue Brandon, FL 33510.
Read More
Previous Events
Celebration Of Life Gathering
New Hope United Methodist Church of Brandon
213 North Knights Avenue
Brandon, FL 33510