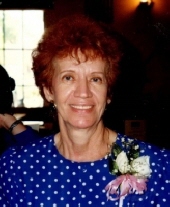 Obituary for Lya Gillespie
Lya Gillespie

GILLESPIE, Lya, 92, went to be with her Lord, January 6, 2017. Born in New York City, New York, January 1,1925 to Norma Tina and Pasquale Russo. She was preceded in death by her parents; husband, William; brother, Anthony (Katie), and special friend, Jack. She is survived by her sister, Rosetta; daughter, Carol; son, Bill (Jeannie); grandchildren, Tina (Emil), Tammy (Rhonda), Tonya (Ken), and Don (Cindy); great-grandchildren Austin, Adam, and Garrett; nieces and nephews, David (Carol), Shira (James), Tamar, Ben, Laura (Lynwood), Mia, Amanda, Charlie, Adelaide, Richard (Tess), Andrew, Michelle (Chris), Maggie (Rob), Daniel, Michael, Tina (Yvonne), Jerry (Lucy), Robin, Sophia, Marysa, Mark (Margaret), Nathan, and Zachary, Shirlee, Michael (Melati), Claire, Joel, Grace, Glenn, Eric, Maria (Blaise), Al, Lisa, Gina; her sorority sisters; caregivers, Marian, Dru, Sabrina, Aleta, Becky, Alex, Dee, Tony, Cheryl, and many friends. She was retired from Hillsborough County Schools and was a member of Beta Sigma Phi Sorority and Brandon Elks lodge. She was Catholic and a member of Nativity Church. Her family would like to thank Dr. George Brick, Dr. Jose Prieto, Dr. Thomas Hooker, Dr. Saba Thangam, New Hope United Methodist Church, Southern Funeral Care, Brandon Hospital and Sun City LifePath Hospice.

Funeral Information

Memorial Service will be on Saturday, January 21 at New Hope United Methodist, (formerly First United Methodist) 120 N. Knights Ave., Brandon, FL. Visitation will be from 10-11:00 with the service beginning at 11:00 am. Immediately following the service will be a reception at the Brandon Elks Lodge, 800 Centennial Lodge Dr. Brandon FL.
Read More