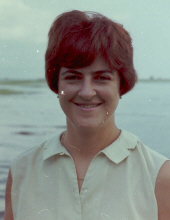 Obituary for Lisa Vojnovic
Lisa Vojnovic died peacefully on June 4th, at the age of 84. We all cried.

She was born on July 24, 1933 in Belgrade, Yugoslavia to Costa and Smilja Popovic. Costa and Smilja were a prominent and popular family in the capital city of Belgrade, so Lisa was born into a wonderful and exciting life. She was a boisterous little girl growing up in the big city who loved animals and continually got into mischief, notably at the palace of the King of Serbia, where her father Costa was a regular visitor. He had become friends with HRH Crown Prince Alexander who was commander of Serbia's First Army during WWI.

She grew up with her sister Zlata in a charmed and glorious childhood playing freely in her father and mother's hotel and restaurants. Her idyllic childhood abruptly ended when she was 7 years old with the invasion and shelling of Belgrade on Easter morning, March 27th, 1941 as part of Hitler's "Operation Retribution." She, her sister Zlata, and her mother all survived the war, sadly her father Costa did not.

Lisa graduated from the Higher Medical School for Nurses in Belgrade, pursuing her love of bringing new babies into the world. She married her handsome and loving husband Stevan Vojnovic in October 1954.
She had her first son Dejan a year later there at the hospital while she was still a student, with her classmates assisting in the delivery.

In August 1955, Stevan seized the opportunity of a scholarship to earn his Master's Degree in Mechanical Engineering here in America, at Cornell University in Ithaca, NY. He was given only one day to make the decision to leave his new wife Lisa behind, when another candidate couldn't go on such short notice. Lisa was 8 months pregnant with their first son Dejan, and it was a hard decision. She later told her sons that when Stevan boarded the plane for the flight to America, her mother told her "you'll never see him again." She knew that he wouldn't leave her behind, and he worked hard to save enough money to bring her over one year later.

She left Yugoslavia the next year with a berthing ticket on a cargo ship hauling cargo from port to port as it made its way from Trieste through various Mediterranean ports and on to New York City.
She and her infant were the only civilians on board. After a stop in Morocco to pick up a load of balsa wood, Lisa and son were brought together again in America with Stevan in New York, to start their new life together as Americans.

Lisa and Stevan raised their sons Dejan, Nick and Greg in Monroeville PA outside of Pittsburgh, where Stevan was a Research Engineer earning various patents for US Steel, and sent all 3 on to Cornell University. Two sons graduated from Cornell's School of Hotel Administration, while the third graduated from the School of Arts & Sciences and then went on to graduate from law school and practice law.
Coming from modest means, all 3 sons are actively involved in all aspects of the restaurant industry, one as President of National Restaurant Brokers, another as President of Little Greek restaurants, and the third as Chief Development Officer of Inspire Brands, the franchising company of Arby's and Buffalo Wild Wings restaurants.

Stevan and Lisa moved from Pittsburgh to Alpharetta, GA in 1986 in order to join their boys, who were all living and working in Atlanta. Lisa loved her new-found country of America. She loved knitting and cooking and raising her growing rambunctious boys. She was the most unselfish person we ever knew, she was honest and virtuous, sweet and gentle, gracious, kind, and humble, a servant to all of us.
Her family was her life. Momino was deeply loved, and will be tearfully missed by all of us.

She lost her older sister Zlata in 2015. She is survived by her loving sons Dejan, Nicholas, and Gregory, who will always be so proud of their mother, and their loving wives Joy, Rene, and Susan. Her grandchildren Jonathan, Lauren, Alex, Ava, Niko, Holly, and Hunter, were the light of her life.

A memorial celebration will be held at 6:30 pm Thursday, June 7, 2018, at Southern Funeral Care and Chapel, Riverview, FL, 813-671-3121.

Thank you kind reader for caring about our sweet Momino. Please hold your loved ones close, and share with them every day how much you really love them. We miss you mom. We're still crying for you, but you make us smile whenever we think of you.
Read More
Previous Events
Celebration of Life Service
Southern Funeral Care and Cremation Services, Inc.
10510 Riverview Drive
Riverview, FL 33578