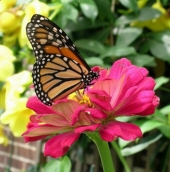 Obituary for Lisa Arlene Wilson
Lisa Arlene Wilson

WILSON, Lisa Arlene, 32, of Riverview, FL, passed away on Monday, July 5, 2010. A native of New Bedford, MA, she had resided here since May, 2010 coming from Melbourne, FL and was a registered nurse. She is survived by her parents, David and Patti Wilson, Riverview; brother and sister-in-law, David Wilson, III and Nedda, Brandon; paternal grandparents, Richard and Diana Wilson; maternal grandmother, Arlene Sabino; nephew, Logan Wilson; 2 aunts, Amy Fraterelli and Joann Hiller; uncle, Tim Hiller; 2 cousins, Andrew and Jason Hiller and her two loving pets, Monty and Mandy.

Funeral Information

Memorial services will be held 11:00 A.M. Saturday, July 10, 2010, at Southern Funeral Care, 10510 Riverview Drive, Riverview, with the family receiving friends one hour prior to services.