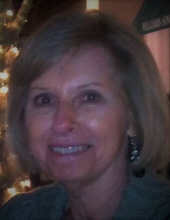 Obituary for Linda S. Golden
Linda Golden's Legacy

Linda Sue Golden was ushered peacefully into the presence of Jesus on September 5, 2019, at 70 years of age, after a long and courageous battle with Alzheimer's Disease. In her final minutes, Dale Golden, her husband of almost 53 years, was holding her hand and talking about the close and loving family they had built, which consists of five children, seventeen grandchildren, and two great grandchildren. Their seventeenth grandchild was born just hours before and was the final picture she saw before closing her eyes. Linda was preceded in death by her son, Christopher Golden, and her parents, Woodrow and Mary Unger.

Linda grew up in the small town of Hancock, Maryland, where her dad was a manager for the apple and peach orchards and her mom worked in the local school. Her parents were married for over 58 years. She was the third of seven siblings and part of a loving family. Linda's best friends were her siblings. Every time they were together, the home was filled with stories and a lot of laughter. She met Dale Golden on a blind date and they were married in October 1966. In 1967, her first son, Christopher Golden, was born. Their family grew when Angie Golden Lipsey was born in 1969 and Terry Scott Golden was born in 1972. They moved from Pennsylvania to Ohio and eventually settled in Rochester, New York. Dale worked his way up in machine sales and Linda began raising their growing family. It was in New York that God began to move in Linda and Dale's hearts and would change their future forever: Linda accepted Jesus as her personal Savior and Dale surrendered his life to Jesus. Those decisions impacted their lives and countless other lives in ways they couldn't imagine at the time. They got their family heavily involved in Faith Baptist Church under Pastor Fred Henzler. It was there that God began to call them both into vocational ministry and to follow Him wherever He led them. He led them to a no-name place called Mulberry, Florida. This was the first huge step of faith that would later characterize Linda's life. Dale quit a very good job, they packed up their two-story home in Rochester, and with three kids moved across the country to begin attending Spurgeon Baptist Bible College. They had no home or job lined up, but they believed that God had called them and would provide. Dale says over and over that Linda never complained once. They made every decision together and she was willing to take risks to follow Jesus even when it was uncomfortable. After Dale graduated with a Biblical Studies Degree, they had their fourth child, Bryant Golden, in 1978. They then took another huge step of faith to become Missionary Church Planters and moved to New Jersey. They had little money and travel was expensive, so they bought a pop-up camper and traveled around the country with four kids (including an infant) raising money to plant churches! Many times, they would drive back to their home in Florence, New Jersey, with only change in their pockets. Soon, they were travelling around the country with five children when Heather Golden Portillo was born in 1981. Their kids reminisce with fondness about the adventures they encountered: Fly infestation, bear on the loose, freezing temperatures with only a space heater under the crib, to name a few. Yet, through every "adventure", Linda knew God had called them to make the Name of Jesus famous no matter what it took. Ultimately, their travels led them to a little place in Valrico, Florida, and a little church called Bethel Baptist Church that met in an old DMV trailer. They would end up faithfully pastoring and shepherding that church for the next 30 years through good times and difficult times. Linda served alongside Dale every step of the way.

Linda faithfully loved, sacrificed, and served other people for over 40 years, many times at great personal sacrifice and without recognition. She led women's groups and events even though it was way out of her comfort zone. She served in the nursery week in and week out. In her sixties, she led a small group of Middle School girls and genuinely loved them and listened to them. Through the foundation of her service and sacrifice alongside of Dale, that little church is now reaching thousands of people, not just locally, but throughout Central Florida and beyond.

Her faith had an incredible impact on everyone who really knew her, most notably her family. Her son, Christopher Golden, was taken Home to Jesus at 27 years old. In her account, Linda wrestled with Jesus for months before Chris's passing and kept hearing Jesus ask, "Will you trust me with your family?". She struggled not knowing what that would mean, but finally surrendered by her bedside saying, "Lord, I don't know what it will mean or why, but I surrender my family to You". Several weeks later, Chris was taken to Heaven. It was devastating in every way, but Linda never wavered in her faith and hundreds of people were impacted by her testimony. She had an intimate awareness of Jesus's presence, often times talking about how Jesus was prompting and leading her. Every day you would see her sitting on her bed with a large brown Bible reading the Scriptures and talking to Jesus.
When she was diagnosed with Alzheimer's Disease, it was again devastating, but her faith never wavered. She feared the future and struggled to accept the reality, but she never stopped believing that Jesus was good, and He would see her through. It's hard to put into words what watching that kind of faith was like.

Linda's most profound legacy was her family. She was quiet but fierce in protecting her family from the pressures of pastoring and nothing got in the way of what she believed was her most important calling: Raising her kids and being a faithful wife. She rarely missed one of her kids' games, she created a home that was safe, she loved her grandkids well – babysitting, showing up to dance recitals, sporting events, and school plays. She would often listen to her kids and grandkids for hours as they sat on the end of her bed and talked about whatever they were currently going through. Linda is deeply loved by her entire family. As a result of her example, her adult children and their spouses love and follow Jesus and enjoy being together.

Linda loved reading books, history, and more than anything, spending time with her family: Hanging out at the house with kids and grandkids, going on vacations together, taking the grandkids to dinner, traveling across the country to see her sisters. She was the center of the family.

She loved her husband, Dale Golden, with all her heart. They were inseparable for their almost 53 years of marriage. Their adventures and loss and laughter created a deep bond death can't even shake.

A strong, loving marriage of 52 years, adult kids who love being together and love Jesus, a story of faith that is breathtaking, doesn't just happen. It is the result of extraordinary faith from an extraordinary woman who was willing to surrender her life to Jesus!

She is survived by three brothers and three sisters: Duane and his wife Dovona Unger, who live in Hancock, Maryland; Kay and her husband Gates Horsburgh, who live in Bel Aire, Maryland; Shirley and her husband Larry, who live in Berkeley Springs, West Virginia; Jo Ann and her husband Michael Schetrompf, who live in Hancock, Maryland; Rodney and His wife Debbi Unger, who live in Little Orleans, Maryland; and Michael Unger, who lives in Hancock, Maryland; and Linda is survived by four children: the late Christopher Golden's wife, Kathy Babcock and their two kids: Kimberly and Kaitlin, and Kathy's third child, Donya, from Kathy's husband Donn who live in Greenville, South Carolina; Angie Lipsey and her husband Tony and their three kids: Taylor, Bailey, and Trey who live in Valrico, Florida; Terry Golden and his wife Lisa and their four kids: Peyton, Riley, Drew, and Zac, who live in Valrico, Florida; Bryant Golden and his wife Nicole and their four kids: Brooke, Ryder, Braxton, and Case, who live in Valrico, Florida; Heather Portillo and her husband Michael and their three kids: Bryson, Aubrey, and Corbin who live in Clearwater, Florida; and two great grandchildren: Aviella and Jameson Hudson who live in Central, South Carolina.

Mom, on behalf of your family, we are so grateful for your legacy! And because of that legacy, the void you leave is immeasurable, but our hope is the hope you lived: We serve a resurrected Jesus, you are healthy and whole, and we are going to see you soon!

1. Flowers can be sent to Centerpoint Church, 1801 South Miller Rd., Valrico, FL 33596
2. In lieu of flowers, financial gifts can be given to Centerpoint Church, the church she gave her life to faithfully serving and building alongside her husband, Dale Golden, for over 30 years so that people could encounter life in Jesus. Gifts can be marked "In memory of Linda Golden" and sent to 1801 South Miller Rd., Valrico, FL 33596 or online at www.centerpointfl.org.


Previous Events
Celebration of Life Service
Centerpoint Church
1801 S Miller Rd.
Valrico, FL 33596
Cemetery Details
Location
Bloomingdale Cemetery
3301 Bloomingdale Avenue
Valrico, FL 33596
Memorial Contribution