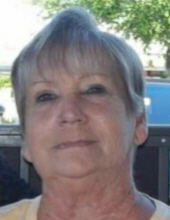 Obituary for Linda L. Brooks
Linda L. Brooks, 74, of Riverview, FL, passed away on Sunday, May 15, 2022. A Loving Mother, Nana, and Friend. She is preceded in death by her father, Culbreath Connell; mother, Vida Connell; and her brothers, Marvin Connell and Melvin Connell. She is survived by her son, Freddie Whitt Jr.; daughter, Laura Zinkand (Bobby); grandchildren, Bryan Lantz II, Lucretia Williams, Ashley Berfield, Amanda Gordy, Jenifer Ruiz, Kyle Zinkand; and her 10 great-grandchildren. A celebration of life will be conducted on Sunday, May 29, 2022 at 11 AM at Rice Creek RV Resort. 10719 Rice Creek Drive, Riverview, FL 33578.

"Life is but a stopping place, a pause in what's to be, a resting place along the road to sweet eternity. We all have different journeys, different paths along the way, we all were meant to learn some things, but never meant to stay. Our destination is a place far greater than we know, for some, the journey's quicker, for some the journey's slow. And when the journey finally ends, we'll claim a great reward and find an everlasting peace together with the Lord."
Read More
Previous Events
Celebration of Life Service
Rice Creek RV Resort
10719 Rice Creek Drive
Riverview, FL 33578