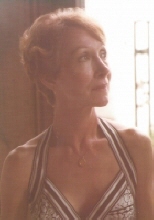 Obituary for Lillian Byrd Mays
Lillian Byrd Mays

Lillian Byrd Mays, known to her friends and family as Lil, was 83 years old, from Plant City, Florida. She passed away peacefully, Friday, October 20, 2017, at Good Shepherd Hospice House in Lakeland, FL from a year long hard fought battle with lung cancer.

Lil was born December 6, 1933, in Lakeland, FL to William Rex and Annie Gertrude Byrd, who predeceased her. She was the 4th of 6 children, and lived her childhood at 751 Davis Ave., Lakeland. She attended and graduated from Lakeland Senior High School in 1953, where she was in the DCT program and sang in the Glee Club. She also worked in the school office as a First Aid Assistant.

Lil held positions at Southern Bell Telephone, as a phone operator; Florida Citrus Mutual, where she did research for orange growers; and she was a co-founder of Power Shop Fitness in Plant City for 27 year, where she not only worked tirelessly, she also trained new members and was the face of the business for many years.

Lil came to Plant City after she met and fell for the love of her life, James Arden Mays, Sr., whom she met while working at Citrus Mutual. Arden was a rancher and citrus grower in the area. They were married November 10, 1961 at All Saints Episcopal Church in Lakeland, FL. Once she moved to Plant City, she became a member of St. Peters Episcopal Church, where she has been a member for over 40+ years. Her husband, Arden, was Mayor of Plant City for 3 terms, making Lil the First Lady of Plant City and the many duties of a Mayors wife. She lived in downtown Plant City for the last 27 years and was well known by downtown merchants and customers alike. Were hearing all kinds of stories from people who knew her and loved her. She could be seen any day walking around the town she loved so well.

Lillian is survived by her son, Kirk Mays (Leigh Ann), of Plant City, FL; a step-daughter, Sandra Mays McIntyre (Forrest) of Hilton Head, SC and daughter-in-law, Nancy Moses, aka Jane Mays of Falls City, NE. She has three grandchildren, McKenna Elizabeth Mays, Robert Allan Parker, both of Plant City, FL and Bryan Drew, aka Daniel Mays, of Lincoln, NE. Great-grandchildren, Allan Michael Parker of Plant City, FL and Ayla Drew of Lincoln, NE and two great-great-grandchildren, Bentley and Kensley Parker, both of Plant City, FL. Lils beloved siblings are Leon Byrd of Texas, Edna Felts of Charleston, SC, Mary Sue Ready (Alton) of Lakeland, FL and Carolyn Sanders of Dayton, OH. She also has many nephews and nieces, these are the ones who lived close, Sharon Hughes, Denise Ready-Perry, James Ready, Christopher Ready, Joshua Sanders, Matthew Sanders and many more spread out across the country.

Lillian was preceded in death by her husband, James Arden Mays, Sr.; both of her parents, William Rex and Annie G. Byrd; step-son, James Arden Mays, Jr. and sister, Virginia Myers.

Funeral Information

A Memorial Service will be held 11:00 A.M. Saturday, November 11, 2017, at St. Peters Episcopal Church, Plant City, with a reception to follow.