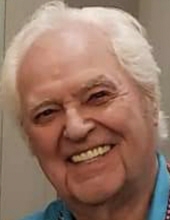 Obituary for Lewis Taylor Hewell, Jr.
Lewis Taylor Hewell, 85 of Tampa, Florida passed peacefully on Monday, November, 16th, 2020.
Per his wishes, he will be laid to rest at London Park Cemetery in Baltimore, Maryland. Where many members of his family have been laid to rest. Arrangements are under the direction of Southern Funeral Care in Riverview, Florida. On-line condolences may be sent to: www.southernfuneralcare.com
Lewis was born on April 18, 1935; he was the son of Lewis & Catherine (Rider) Hewell. Husband of the late Shirley Lee Kirk. Father of Deb Poss & her husband Jerry, the late Diane Hewell & Lewis T. Hewell III & wife Nona. Dear brother of Regina Bricker, Janet Bittner, Marian Grabinski, Joseph Hewell, Edward Hewell, and the late Donald Hewell, Eileen Bosley, Joan Stacharoski, Ann Schindler, James Hewell & Evelyn Bittner. Grandfather to Jeff, Kirk, Erica & Kate.
Lew was employed for Ebasco Services most of his life. Ebasco was a United States based constructor of energy & nuclear power plants. His career with Ebasco started in New York and took him to all parts of the United States. Something he enjoyed; especially when his brothers Joseph ad Edward were transferred also to the same locations.
Lew was a man of many talents. He was a gifted singer, guitar & harmonica player and loved entertaining many of his family & friends through the years. Every gathering was a reason to sing and play! He also was a great storyteller and jokester- and was often told he should have had his own variety show. As he loved to entertain you & make you laugh. He was very good at that too!
Keeping busy was very important to Lew; he was always doing or working on some project. His kids would say: "Daddy will wix it" when we were younger. Because he truly did fix everything for us! He had his own woodshop where he would create many beautiful things daily for his family & friends. Grandfather clocks, yard decorations, Christmas ornaments, manger sets and most recently some corn hole boards for the VFW hall in Riverview Florida. A place that was very dear to his heart.
Lew was involved in The Elks, Masonic, Moose Lodge, American Legion, VFW and many other organizations through the years. He truly loved his country!
A special celebration of life will be held at the VFW Riverview Post 8108 in Riverview, Florida for both him & dear Ruth Fisher who also passed on November 11th. There will also be a future celebration of Lew's life in Baltimore, Maryland with family & friends. A place that he often traveled back to – to see his many brothers, sisters, nieces & nephews. He was very good about always staying in touch with his family and loved them deeply. He would travel from Florida to Baltimore, Maryland frequently to see them. His most recent trip just this past year was to see his dear sister Evelyn Bittner before she passed.
We will miss you deeply dear Father and know that you have lived your life exactly the way in which you wished. Never with any regrets and always with passion and zest. You have left us all with a memory of a man that truly enjoyed life and lived your life full until the day you could live that life no more. Until we see you again………..
Read More
Events