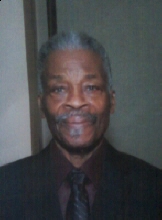 Obituary for Leroy George Kettle
Leroy George Kettle

KETTLE, Leroy George, 72, of Riverview, FL, passed away on Thursday, October 29, 2009. A native of Portland, Jamaica, he had resided here for 5 years coming from Chicago, IL. He was a member of the Boyette Springs Church of God, Riverview. He is survived by his wife, Sybil; 3 sons, Dylon and Everton Kettle, both of Chicago, IL and Desmond Kettle, Riverview; 7 daughters, Vinette Kingston, Jamaica, Aldean Kettle, Marva Kettle, Dahlia Kettle-Garcia, Wavaney Kettle-Baez and Thaleta Kettle, all of Riverview and Lavern Kettle, Stone Mountain, GA; 2 sisters, Thelma Davis, Little Rock, AR and Ivy Dixon, Brooklyn, NY; 31 grandchildren and 5 great-grandchildren.

Funeral Information

Funeral services will be conducted 11:00 A.M. Saturday, November 7, 2009, at Boyette Springs Church of God, 12114 Boyette Rd., Riverview, with the family receiving friends one hour prior to services. Interment will follow at Serenity Meadows Memorial Park, Riverview.