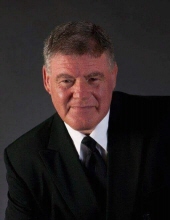 Obituary for Kevin Kenneth Emmons
Kevin Kenneth Emmons, 67, of Brandon, Florida, died at home on Sunday, March 13, 2022 at 10:24pm surrounded by his family as he took his last breath.

Kevin is survived by his daughter, Katherine Anne Toth; son-in-law, Arthur Toth; grandchildren, Alexander James Toth, Lilyanne Jean Toth, Kevin Nelson Toth and Emma Magdalene Toth; brother, Guy Emmons; numerous cousins, nieces and nephews and friends who grew to be family. Kevin was preceded in death by his mother and father, Ann Emmons/LaCapria and Nelson Emmons; his two brothers, Timothy Emmons and Gregory Emmons.

Kevin was born on June 14, 1954, Flag Day. He was a devoted and loving father and grandfather and was adored by all who had the pleasure of ever knowing him. Kevin took great pride in his daily work of being a project manager or superintendent to construction companies that specialized in building cancer centers all over the United States. He was very involved and a devout member of our church growing up and loved the Lord.

Kevin had been battling a very aggressive cancer since October 2021 but never once lost his positivity towards life. He spent every hour of every day since October with his daughter, son-in-law and grandchildren who kept him company, made lifelong memories and helped him with daily life. Having this precious time with his family meant the world to him. Family and friends from all over the country came by to visit and help which filled his heart even greater.

A service honoring the life of Kevin Kenneth Emmons is scheduled for Saturday, March 26, 2022 at 4:30pm at Holy Innocents' Episcopal Church in Valrico, Florida. Father Bryan O'Carroll will officiate. Immediately following the service, we would like to invite everyone to meet in the Parrish Hall for appetizers, drinks, a meal and desserts and to tell fondly remembered stories of my father.

Flowers, donations and condolences may be offered at 1605 Long Pond Drive, Valrico, Florida, 33594.
Read More
Previous Events
Celebration of Life Service
Holy Innocents' Episcopal Church
604 N Valrico Rd.
Valrico, FL 33594