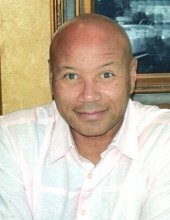 Obituary for Kevin Edward Moutry
Kevin Edward Moutry died Sunday March 20,2022 at his home in Ruskin, Florida with his wife and a few close family members by his side.

Kevin was born on January 25, 1962 to Robert E. Jones, Jr. and Cleo Moutry in Milwaukee, Wisconsin. He attended James Madison High School then worked some jobs before enlisting into the United States Army and that's where he found his niche.

Kevin served in Operation Desert Storm receiving a Bronze Star medal for his achievements. He served in Operation Iraqi Freedom and received a National Defense Medal and another Bronze Star for his efforts. He also served in Kuwait and received a Global Terrorism Service Medal, Army Achievement Medal, Good Conduct Medal, and a Non Commisioned Officer Professional Development Ribbon. Throughout his military career Kevin received 24 Medals and recognition awards, too many to mention. He retired with PTSD in 2012.

Kevin Married Mary Pittelkow on November 22, 1992. There were four children from this union; Joshua Aaron, Olivia Courtney, Elisha John, and Josiah James. Unfortunately,this marriage ended in divorce.

Kevin Married Ana Esther Francisco Lendof on February 12, 2016 in Hillsborough County Florida and they resided in Ruskin. There are no children from this marriage.

Kevin adored his grandchildren, Jasper, Sawyer, Remington, and Lucella. He was looking forward to his 5th grandchild at the end of this month.

Kevin is preceded in death by his Father, Robert E. Jones, Jr. and is survived by his wife, Ana Moutry; son, Joshua Moutry; daughter, Olivia (Alex) Koenen; son, Elisha Moutry; son, Josiah Moutry; grandsons, Jasper Wein, Sawyer Wein and Remington Wein; granddaughter, Lucella Koenen; mother, Cleo Moutry; step-mother, Jacqueline Jones; sisters, Annette Perera, Antoinette Jones, Greer (Jerome) Johnson and Greta (Richard) Held; brother, Kyle Jenkins; sister, Sasha Jones; father-In-law, Jose (Marina) Francisco Jeorge; mother-In-law, Vidalia Lendof; brother-In-law, Jose (Blanca Veltran) Francisco; brother-In-law, Breinlyn(Joan Cruceta) Francisco and sister-In-law: Leidy (Elio) Francisco.

Kevin didn't wish to have any viewing, or service (Military or Otherwise). He wanted a private service to release his remains, which has been scheduled for a summer date.

The family requests memorial tributes be directed to: Ana Moutry to assist with his final expenses.
Read More
Events