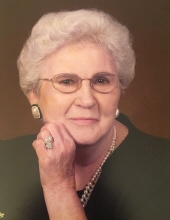 Obituary for Kathleen Hatton
Kathleen Hatton of Seffner, FL, went home to visit her Lord on June 3, 2019 at the age of 90.
Kathleen was born in Clay City, Kentucky to Clinton & Mina (Aines) Spencer on October 24, 1928. She met and fell in love with Robert "Bob" Catlett Hatton, Jr. while he was serving in the Navy during World War II. Kathleen married her true love Bob on May 15, 1945 in Winchester, KY.
They continued to live in Winchester where their 2 children, Larry and Brenda, were born. Kathleen worked in a garment factory in Ky. In 1961, the family decided to pack up and move to Florida. It was here they found their church and their children found the wife and the husband with whom they would spend their lives. She became a garment factory manager in Florida, where she worked until her retirement.
Kathleen had two loves in life. First and foremost was her Lord. She was devoted to her church and raised her children, grandchildren and great grandchildren to love the Lord first and foremost. She could often be found at First Free Will Baptist Church of Tampa in Seffner either teaching a class or helping with the babies and the children or even just standing at the door with an open hand welcoming you. Kathleen loved to sing, especially her beloved church songs for her Lord.
Kathleen's second Love was her family. It began with her husband Bob who she unfortunately lost to cancer in 1991. Theirs was one of those "Great Loves". She and Bob loved their "Stories" or as we call them… Soap Operas and enjoyed watching WCW wrestling back in the day. No matter how hard the day, Kathleen and Bob would get on their knees and pray alongside their bed. A practice she continued until she was no longer able.
Everything she did was for her family. Her grandchildren were never sad when their parents had to go out of town or just out for a night alone because that meant it was time to go to Granny's house.
She was an amazing baker and cook and anyone who had her chicken and dumplings, chocolate candies with orange filling or the family favorite - peanut butter roll - knew that they were that much better because they were made with love.
Kathleen was a servant to her Lord and a Shepherd to her family.
Kathleen is preceded in death by Her loving husband Robert (February 1991), her
One brother - Carl Spencer and four sisters - Marjorie Walters, Marcella Bramel & Orania (Ornana) Walters.
Kathleen is survived by her children Larry (Shirley) Hatton and Brenda (Ronnie)
Copher, her Grandchildren Kevin Hatton (Atlanta, GA), Keith Hatton (Van Buren, AR) and Joshua Copher (Tampa, FL), her Great Grandchildren Jessika Hatton, Kaulen Hatton, Kainen Hatton, Kaleb Hatton, Karsten Hatton, Karson Hatton, Korben Hatton, Kaslyn Hatton and twins Kyla and Kamry Hatton and Her Great Great Grandchildren Braxston Hatton and Branson Hatton.
Read More
Previous Events
Visitation
First Freewill Baptist Church of Tampa
11605 East US 92
Seffner, FL 33584
Celebration of Life Service
First Freewill Baptist Church of Tampa
11605 East US 92
Seffner, FL 33584
Cemetery Details
Location
Hillsboro Memorial Gardens
2323 West Brandon Blvd.
Brandon, FL 33511