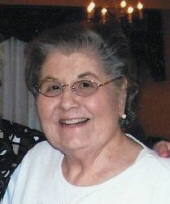 Obituary for Katharine Campbell Vargo
Katharine Campbell Vargo

VARGO, Katharine Campbell, 86, of Brandon, went to be with her Lord on Tuesday, August 30, 2011. A resident of Brandon since 1961, she was a charter member of Westminster Presbyterian Church, member of DeSoto Chapter #621460, Daughters of the American Revolution and welcomed thousands of new families into Brandon as a former hostess for Hi-Neighbor Service of Brandon. She was preceded in death by her husband, William J. "Bill" Vargo, Sr. and is survived by her children, William J. "Billy" Vargo, Jr. and his wife, Pam; Victoria "Vicki" Wray and her husband, Phillip; Mark C. Vargo, Sr. and his wife, Patti and Margaret "Meg" Cook and her husband, George; eight grandchildren and two great-grandchildren.

Funeral Information

Graveside services will be held 10:00 A.M. Friday, September 2, 2011, at Florida National Cemetery, Bushnell, FL. Memorial services will be held 2:00 P.M. Friday, September 2, 2011, at Westminster Presbyterian Church, 402 E. Lumsden Road, Brandon with a reception to follow.