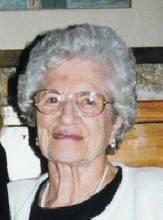 Obituary for Julia C. Smith
Julia de la Cerda Smith

SMITH, Julia de la Cerda, 93, of Brandon. Our precious mother went to be with her Lord on Tuesday, January 20, 2009. She was preceded in death by her husband of 70 yrs., Walter E. Smith, Sr. and her son, Walter E. Smith, Jr. She is survived by her daughters and sons-in-law, Marti and Ralph Quinn, Carol and Denny Lynch, Nancy and Ted Stark and Gail and Ben Stave; grandchildren, Kim Mixon, Tammy Clinger, Walt (Sarah) Quinn, Bob Quinn, Cindy (Ryan) Williamson, Susan (Jan) Horsfall, Shannon (David) Bennett, Tyson Stark, Chris Lynch and Julie (Drew) Chamberlain; great-grandchildren, Tyler, Madison, Austin, Jenna, Aidan, Mallory, Lane, Alec, Finn, Blaise and Emma; brother, Carlos de la Cerda and many nieces and nephews. Julia's life was filled with the love of God and Family. She was an inspiration to all who knew her. Thank you to Rev. Arthur J. Proulx of Nativity and Elizabeth Lanz and the other LifePath Hospice Yellow Team members of Sun City Center.

Funeral Information

Please join the family for the celebration of the Funeral Mass at 10:30 A.M. Friday, January 23, 2009, in the chapel at Nativity Catholic Church, Brandon. The Rosary service will be just prior to the Mass in the chapel.