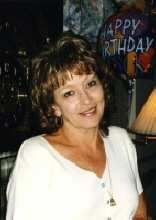 Obituary for Joyce Elaine Johnson
Joyce Elaine Johnson

JOHNSON, Joyce (Joy) K., wife, mother, sister, grandmother, great-grandmother and friend to all; Joy passed away peacefully at home, in her own bed, on Thursday, July 7, 2017, surrounded by her loving family. Born in Bradenton, FL on November 6, 1946, to parents Mozelle Whitcomb (Frosty) and Bill Weed. She married the love of her life, Ronald Johnson, in February of 1972 and they raised their three daughters in the Brandon area. Joy touched many lives in her 70 years and will be missed immensely by her family and friends whom she held so dear. She was preceded in death by mother and stepfather, Mozelle and Deforest (Frosty) Whitcomb, her father Bill Weed, brother Vernon Weed, stepbrother Frank Whitcomb, as well as grandparents and numerous aunts, uncles, cousins and friends that she held dear in her heart. She is survived and greatly missed by her loving husband, Ronald D. Johnson, daughters, Tandy Fritcher (Danny), Kristi King (Melinda) and Kim Stubbs (Ray); sister, Judy Sutherland; grandchildren, Ashlee King, Matthew Fritcher, Cassidy Stubbs and Colton Stubbs; great-grandchildren, Alivia King-Shuler and Kristopher Lys; stepbrothers, Vern & Ricky Whitcomb; sister/brother-in-law, Kay Reddick & John Johnson, as well as her rescue fur baby, Tory. Joy was raised in Ruskin, FL and lived her adult life in Brandon, FL where she was the matriarch of the family providing unconditional love, strength and guidance to us all. Joy had an impact on so many lives over the years; she never met a stranger and anyone who knew her knew that she considered her friends as extended family. She was known for her smile, beauty (inside & out), strength and unwavering commitment to family and friends. She loved to laugh, go junking, working in her garden and spending time with family and friends. Words cannot describe, nor do justice to her life, legacy and how tremendously she will be missed. Although our hearts here on earth are terribly broken, we have no doubt that there is quite the party going on in heaven as she is welcomed by the family and friends she so dearly missed.

Funeral Information

A celebration of her life will be held at 2:00 p.m. Saturday, July 15, 2017, at Southern Funeral Care, 10510 Riverview Drive, Riverview, with the family receiving friends one hour prior to services. After the service, a remembrance celebration will continue until 5:00 P.M. at the funeral home.