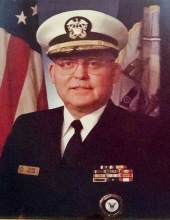 Obituary for Joseph Hardy Milller
Rear Admiral Joseph Hardy Miller, age 91, of Brandon, Florida passed away of natural causes on September 5th, 2021. He was born on April 9th,1930, in Thrift, Texas. He graduated from Ludowici Georgia High School, Mercer University, and The Medical College of Georgia. He is survived by his wife of 42 years, Cathy Parker Miller, 5 children,17 grandchildren, and 23 great grandchildren.

He was a devoted Christian for 79 years, a Sunday School teacher, and Deacon. He was a Neurosurgeon for 40 years, the founder of the Neuroscience Center in Memphis, Tennessee, and enjoyed Neurosurgical Academic Interchange with 27 countries. He also served as a bank director, a college trustee, authored 17 books, flew more than 5,000 hours as a pilot, was a frequent speaker on war time issues, received Navy orders for 63 years, and consulted with every US Navy Hospital in the world.

In his career in the military he received the Legion of Merit Medal, the Navy Commendation Medal, the Combat Vietnam Service Medal, the Vietnam Gallantry Citation, the Vietnam Civil Action Medal, the Armed Forces Service Medal, the National Defense Service Medal, and the Navy Expert Pistol Medal. In addition he received the following ribbons: Combat Action, Navy Unit Commendations, Meritorious Unit Commendation, and the Navy, Marines Overseas Service.

Graveside services will be at 3:00PM, Tuesday September 14th, at Elmwood Cemetery in Memphis.
Read More