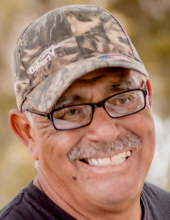 Obituary for Jose I. Rangel
J Ysabel Rangel Vega, more affectionately known as Jose, 61, entered into eternal rest Saturday, December 31, 2022, in Tampa, Florida. He was born October 29, 1961, in El Espejo, Guanajuato, Mexico. He immigrated to the United States when he was 16 years old, and he's lived in Florida a majority of that time. Jose has always been a hard worker, from when he was younger being a migrant worker to most recently, laying fiber optic cable around the Tampa Bay Area. During football season you could catch him watching all the games from college to the NFL. Even though he liked all football, he was a die-hard Dallas Cowboys fan. They were his team! He also liked to watch NCIS, Nascar, wrestling, and westerns, especially Bonanza. If there is one thing everyone knows about him, it's that he loved his grandchildren more than anything else in the whole world. He also loved to be outdoors, playing with his grandkids, fishing, working on cars, or messing with his plants.
He was preceded in death by his Parents – J Jesus Rangel and Natalia Vega, and three brothers- Costan, Juan, and Emilio.
Jose is survived by his Children – Carol Calhoun (Maurice) of Land O' Lakes, FL; Natalia Rangel Ramirez (Eriverto) of Bradenton, FL; Joseph Rangel (Collette) of Ruskin, FL; and Jeremy Gariepy of Seffner, FL; Grandchildren – Jaiden, JJ, Avery, Linden, Juan, Zack, Chelsey, Alex, Anden, Jacob and Marissa; Siblings – Juana, Puebla, Martin, Goyo, Isidro, Eva, Demetrio, and Amelia; and his fiancé, Heidi.

A memorial BBQ will be held Saturday, February 25, 2023, at 11:00 am at Lettuce Lake Park in Tampa, FL.
Read More