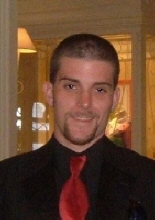 Obituary for Jonathan Patrick Salvo
Jonathan Patrick "Jon" Salvo

Jonathan Patrick Salvo, 23, of Brandon, passed away on Wednesday, December 23,2009. He is survived by his parents, Patricia and Ernest; brother and sister-in-law, Alan and Melissa; paternal grandmother; nephew, Spencer, his girlfriend Becky, many aunts, uncles and cousins and so many friends that loved him.

Jon was kind, caring and loving to all who knew him. He had a special place in his heart for children and animals. Jon loved the outdoors and camping. He also loved to fish with his friends.

Jon loved his family and enjoyed spending time with them. He went to Busch Gardens many times with his mom and his girlfriend Becky. Jon loved all kinds of music and was always humming some kind of a tune.

Jon's favorite possession on earth was his dog, Mary. She was his best friend. He lived for her and she lived for him. He brought her home as a puppy 5 years ago and they have been inseparable since then.

Jon was with us for such a short time, but made a major impact on many people's lives. He is an angel in heaven watching down on us now. He will be missed.

In lieu of flowers, donations may be made to the SPCA, spcatampabay.org.

Funeral Information

Funeral services will be conducted 6:00 P.M. Wednesday, December 30, 2009, at Southern Funeral Care, 10510 Riverview Drive, Riverview, with the family receiving friends one hour prior to services. Everyone is welcome to join the family at O'Briens Irish Pub following the service at 7:15 p.m., 701 W. Lumsden Rd., Brandon, Fl.