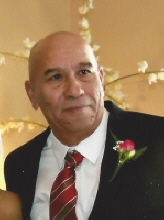 Obituary for John W.B. James
John W.B. James

JAMES, John W.B., 61, of Seffner, passed away on Friday, April 24, 2015. Born August 10, 1953 in Newell, St. Elizabeth, Jamaica, he worked as a laboratory technician and construction worker. He was the son of Julia Williams James and Oswold James. He provided care for his late wife, Sheila James and is survived by his daughter, Michelle James-Roshong and sons, Douane and Bruce James, brothers, Wilbur, Kingsley and Chevon James and sister, Earlena Dennis.

Funeral Information

Services will be held 2:00 P.M. Saturday, May 2, 2015, at Southern Funeral Care, 10510 Riverview Dr., Riverview, with the family receiving friends one hour prior to services. Interment will be at a private home in St. Elizabeth, Jamaica.
Read More