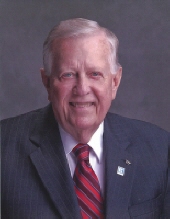 Obituary for John L. Ryals
John L. Ryals

John L. RYALS was born in Plant City, FL on March 27, 1933 to John Madison Ryals and Estelle Morrow Ryals. John was a second generation Floridian, his dad being born in Zephyrhills, FL in 1872. His family was in cattle and citrus business in the Plant City and Pasco County areas. John grew up in Plant City and graduated from Plant City High School in 1951. John has been a member of the First Baptist Church of Plant City since he was in his early twentys. John was married to Jeanne Johnson Wheeler and they had two sons, John Stephen and John Christopher Ryals, both preceded John in death. John was also married to Sandra Bendazi. John had a sister, Grace Chancy and two brothers, Richard and Vernon Chancy, all have preceded John. John also had a first cousin, Arlen (Buddy Chancy) of Plant City, FL. John moved from Plant City to Brandon, FL in 1962, where he resided when he passed. John was an over 50 year member of both the Olin S. Wright Masonic Lodge #79, Plant City and Egypt Temple Shrine, Tampa, FL. He was active, in the 70s, in the Midget Motors Unit of the Shrine. He drove his Midget race car in many parades and attended the National Convention in Nashville, TN. Parking his car in front of Tootsies Lounge, in downtown Nashville, he returned to find Little Jimmy Dickens sitting in the car. Jimmy asked John if he could drive it around the block and John said no because the rules of the Shrine does not allow anyone to drive but the owner of the car. John was involved in many businesses over the years that included a retail clothing shop in Plant City in the mid 50s and as President of Ryals Homes, Inc. in the 70s and 80s, along with his cousin, Harvey (Bo) Ryals. He built many homes and developed subdivisions in Brandon, as well as Bloomingdale, along with Oak Hill in Brandon. Since 2006, he has been a licensed Realtor and was with the Signature Realty Associates of Valrico at the time of his passing. John was elected to the Florida House of Representatives in 1966 from Hillsborough County. Because of reapportionment at one time he represented all of Hillsborough, Pasco, Hernando and Citrus counties, as well as a portion of Polk County. John served a total of 14 years, deciding in 1980 not to run for re-election. During his 14 years in the Legislature, he served 6 years as Chairman of the Committee on House Administration. Two years as Chairman of the Committee on Regulated Industries and Licensing and 4 years as Speaker Pro-Tem. He was also elected by the membership of the house as Speaker Elect. He was also Chairman of the Select Committee to hear the claims bill for Pitts and Lee. John passed many bills that still affect our lives today. His first bill passed in 1967 was to have a color photo plastic encased drivers license. Prior to the passing of this bill we had paper license that had your name typed in. This created the perfect document to counterfeit or change. Many teenagers changed the date they were born so they could buy beer and wine. John was also one of the lead Legislators in getting the Crosstown Expressway built from Tampa to Brandon. John was also one of the original Legislators that introduced the bills creating the Crosstown Expressway, the Aviation Authority, the Port Authority, the Sports Authority and the Medical School at the University of South Florida. John also was one of the original sponsors of the bill creating the Hillsborough Community College, both in Plant City, Brandon and Tampa. John was also a member of the Greater Tampa Realtor Association, as well as the National Association of Realtors. He was a member of the Olin S. Wright Masonic Lodge #79, Plant City, York Rite, Egypt Temple Shrine, Past President of the Plant City Lions Club and was a member of the Florida House of Representatives from 1966-1980.

Funeral Information

Funeral services will be held 11:00 A.M. Thursday, July 27, 2017, at the First Baptist Church of Plant City, 503 N. Palmer Street, Plant City, FL 33563. Visitation will be one hour prior to services. Interment will follow at Oaklawn Cemetery, Plant City, FL.