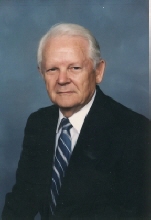 Obituary for John David Ryals Jr.
John David Ryals, Jr.

RYALS, John David, of Valrico, passed away Monday, February 23, 2009.
He was born on May 29, 1918, in Ashburn, Georgia to Linda and John Ryals. He served in World War II in the Army Signal Core attaining the rank of Captain and was among the first group of Military Government personnel to arrive in Berlin in August of 1945. Working with the Office of Military Government of Germany, (U.S.), Mr. Ryals remained in Berlin assisting in the reorganization of Germany's civilian communications system. As Assistant Chief of the Rates and Finance Branch of the Communications Group, Office of the Economic Adviser, he was responsible for re-establishment of the postal financial services and international telephone and telegraph rates between Germany and foreign countries. He also served as an American Delegate who met weekly with his British, French and Russian counterparts in Berlin in an effort to resolve some of the conflicts created by the Russians on a regular basis. Upon returning home to the United States, he became a businessman opening the Thriftway Supermarket along with the Village Pantry convenience stores in the Brandon and Valrico area. He was a former member of the Kiwanis Club of Greater Brandon and a member of the Limona Village Chapel, United Methodist Church. He belonged to a generation that embraced truth, honor, and loyalty, a generation where a handshake was sufficient to seal a business deal. Mr. Ryals was preceded in death by his parents, his brother, Robert Ryals, and his son, Timothy Ryals. Surviving are his wife of 57 years, Inge Ryals of Valrico, Daughter Kathy (Claus) Eberhardt of Germany; Daughter Julie (Rich) Goodman of Weston; Daughter Lisa (Boyd) Cartwright of Valrico; Son David Ryals of Valrico; Sister Irma Hollister of Tampa; Nine grandchildren and two great grandchildren.

Funeral Information

Funeral services will be conducted 12:00 P.M. Friday, February 27, 2009, at the Limona Village Chapel, UMC, 408 Limona Rd., Brandon, FL 33510, with the family receiving friends one hour prior to services at the church.