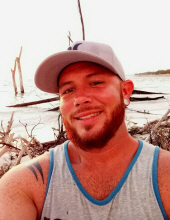 Obituary for John Carl Sims
John Carl Sims, 35, of St.Petersburg, FL, went to be with the Lord, August 31, 2019. Preceded in death by his older brother, Michael David Walterson and step-father Paul W. Cumbie, he is survived by his wife of 5 years, Madison Kristine Sims; his precious son, Carson Alexander Sims; father, Barry Fred Sims; mother, Laurie Ann Carley Cumbie; brothers, Beau Reibel and Michael Cumbie and his sister, Melissa (Ben) McLaughlin. John was a loving husband, father, son and friend. In a moment, in the twinkling of an eye, at the last trump: for the trumpet shall sound, and the dead shall be raised incorruptible, and we shall be changed. I Corinthians 15:52. You will dearly be missed till the day we meet again.
Read More
Previous Events
Celebration of Life Service
First Baptist Church of Gillette
3301 97th St E
Palmetto, FL 34221
A reception will follow at the church.