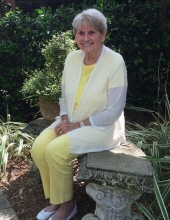 Obituary for JoAnn "Joey" J. Shingledecker
JoAnn "Joey" Shingledecker, 92, a loving wife, mother, grandmother, great and great-great grandmother, and friend to many, left this world July 9, 2021with her daughters by her side, at LifePath, a compassionate and caring Hospice House in Sun City Center, Florida.
Joey, born to George and Florence Sides, lived most of her life in Columbus, Ohio, marrying her high school sweetheart, William "Bill" Sliney. They raised 2 daughters, Diane (Jon) Sollars of Brandon, Florida, and Janet (David) Farmer of Yorkville, Illinois.
Her pleasures were simple, but important to her; creating a pretty home, serving delicious meals, sewing lovely clothes, and showing by example, in word and deed, how to love, protect and care for her family.
Years after losing Bill in 1978, she married Dwight Shingledecker (1922-2018) and moved to Valrico, Florida where they enjoyed many happy and active years residing in Featherock.
Her family continued to grow with grandchildren: Shelby (Jeff) Hough, Ryan (Fasee) Sollars, Caitlin (Jason) Sterchi and Brett (Colleen) Farmer. Throughout their lives and the lives of generations that came after (7 great grandchildren and 2 great great grandchildren), she was always there, showing support, understanding and love.
As involved as she was with family, she found time to thoroughly enjoy new found passions: playing bridge at Featherock and golfing at Buckhorn Country Club.
Her faith in God was an integral part of her life and she was an active member of Apolstle's Lutheran Church, becoming a Stephen Minister, holding the hands and offering support for those in need.
As per her request, there will be no memorial service. All who were privileged to be part of her life will honor her by continuing her teachings, her greatest legacy; giving unconditional love to all.
If desired, contributions may be made to any home for battered women whom she believed were so very brave.

Love never ends. Never.
Read More
Events
Memorial Contribution