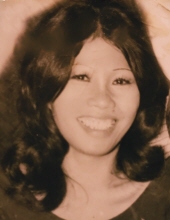 Obituary for Jessica C. Graziosi
Jessica C. Graziosi, 63, ascended to the skies above on August 10, 2019, from her home in Wimauma. She was greeted upon arrival to the heavens by her parents Lourdes and Francisco Guarin and parents in-law Marjorie and Pasquale "Patsy" Graziosi.
Jessica was born in Olongapo, Philippines where she later met and married her husband, Patrick Graziosi, on July 15, 1976. In 1978, she moved to the United States where she was welcomed with open arms by her mother and father in-law, Marjorie and Pasquale "Patsy" Graziosi, who would quickly become two of her favorite people.
Jessica was the glue that kept her family together, essentially becoming a well-rounded military housewife who nurtured and guided her children while her husband worked multiple jobs to pay the bills.
Known for her loving nature, quirky personality and joy for cooking, Jessica lived a simple life and was happiest after a few glasses of boxed wine while in the company of family and friends. Her ear-to-ear smile and infectious laugh sparked the room and her random Elvis impressions would brighten anyone's mood. When guests came to visit, she made sure they were properly fed with homemade pancit and lumpia. At weddings and family functions, Jessica was often the first person on the dance floor and the last one off of it – she truly understood the importance of levity.
Jessica began her battle with colon cancer in early 2017, and despite numerous hospital visits and treatments, she did not show pain and refused to let her diagnosis change her. While others dressed down for chemotherapy, Jessica wore her Sunday's best just like she would for any occasion. Cancer slowly diminished her health, but it would never diminish her soul and persona.
As cancer began to take its toll on Jessica, she moved to Florida in April to spend her remaining days in her beloved lanai, closer to her granddaughter Autumn Walthall, the light of her life.
Jessica loved unconditionally and put others before herself. If she could have said one thing to everyone before she left this world, it would be her daily reminder to "always be careful wherever you go."
She is survived and greatly missed by her husband of 43 years, Patrick Graziosi of Wimauma, her children, Marjorie Walthall of Sanford, Patrick Graziosi II of Wimauma, Arthur Guarin of Delray Beach and Ronald Guarin of Cordova, TN. She is also survived by three grandchildren, her sister, Maria Theresa Keeney of San Jose, CA and numerous nieces, nephews, cousins and in-laws including Solly Marks of Silverdale, WA and Dollie Ramos of Olongapo, Philippines.
In lieu of flowers, donations can be made to the American Cancer Society in honor of Jessica C. Graziosi. Please remember to schedule your next colonoscopy at your earliest convenience.


Events
Memorial Contribution