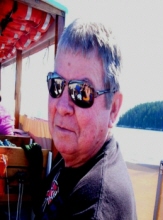 Obituary for Jerry Thomas Barrow
Jerry Thomas Barrow

BARROW, Jerry Thomas, 68, of Seffner, passed away on Sunday, November 20, 2011. A native of Vienna, GA, he had resided here since 1973 coming from Jacksonville, FL and was a US Navy veteran. He was Vice President of Rodan Fire Sprinklers; President of the Fraternal Order of Eagles, Aeries, 3566, Valrico, FL and a member of the Am-Vets. He is survived by his wife, Linda; son, William Brennan Barrow, Brandon; 3 daughters, Katy Hooks, Brandon, Julie O'Brien, Ft. Lauderdale, FL and Crystal Barrow, Frenchboro, ME; 2 sisters, Linda Brannam, Fitzgerald, GA and Angela Wilkes, Griffin, GA and 2 grandchildren.

Funeral Information

A Celebration of Life will be held 1:00 P.M. Sunday, November 27, 2011, at the Fraternal Order of Eagles, Aerie 3566, 1810 Front Street, Valrico.