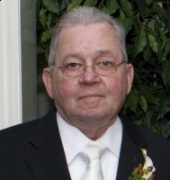 Obituary for Jerry Register
Jerry Register

REGISTER, Jerry, 71 of Seffner, passed away on Wednesday, March 17, 2010. A native of Lake City, Florida, he had resided in Seffner since 1966. He was retired after over 30 years of service with Marcone Appliance Parts Center. He is survived by his wife of 49 years, Carolyn Clark Register; 1 son, Jerry Blaine Register (Kaleena); 2 daughters, Jennifer Clark (Mike); and Janet Brantner (Jim); 2 brothers, Steve Register (Irma) and Kenneth Register (Linda); 3 sisters Rachel Reel (David); Carol Quesada (Harold); Judy Register, 14 grandchildren and 2 great-grandchildren and many nieces and nephews. He was preceded in death by his parents, Jake Mae (Sug) Register; his brother Ronnie Register; and his granddaughter, Brandon Michelle Register.

Funeral Information

Funeral services will be conducted at 11:00 A.M. Saturday, March 20, 2010, at Bell Shoals Baptist Church (Worship Center), 2102 Bell Shoals Road, Brandon. The family will receive friends from 10:00 until 11:00 A.M. at the church. A reception will be held following services. Interment will be private.