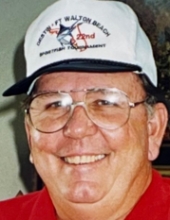 Obituary for Jerry D. Abrams
Jerry Abrams, 77, a long-time Ft. Walton Beach, FL resident, passed away on March 9, 2023. He is survived by his wife of 57 years, Cathy; his son, Jason, his wife, Traci; his daughter Julie, her husband, Dan; and three grandchildren, Catherine, Rachel & Fisher, sister, Angela Bear and her sons, Russell and Jeffrey, and their families. His parents, "Snow" and Mary Abrams preceded him in death.
He was born in Pell City, Alabama, and enjoyed being close to so many family members. He graduated as Salutatorian from Osborne High School in Smyrna, Georgia and from Auburn University with a double master's in Chemical Engineering and Nuclear Physics. He was a member of Alpha Tau Omega and Tau Beta Pi fraternities. He was assigned by the Air Force to the Armament Lab at Eglin AFB for the next 16 years, where he specialized in Fuses. He worked on the Patriot Missle, GBU-113 Penetrator, GBU -28 "Bunker Buster," and a joint U.S / U.K mission, the JP233, where he worked in London for three years on the British submunition delivery system. One of his proudest moments was when "his baby" destroyed Sadam Hussein's runways, and not one plane got off the ground, saving many lives. He was counting the blasts since he knew how few we had at the time. He retired from the U.S. Air Force in 1986 and was President of Orlando Technology for the next ten years, doing the same thing he did in the Air Force. He once said, "I can't believe I get paid to blow things up."
He was an AVID fisherman and spent his free time fishing on his dock, the Okaloosa Island Pier, and deep-sea fishing on his boat, BIG BLUE. He was a two-time president of the FWB Sailfish Club and a two-time president of the Antique Dealers Association. His photographic memory made him valuable in all endeavors. He and Cathy owned Abrams Antiques for 40 years; they were licensed appraisers and helped many people. He was a good, decent, loving man who will be missed by many and never forgotten. His family meant everything to him.
A full military graveside service will be held in May, date to be determined, at Beal Memorial Cemetery in Ft. Walton Beach, FL. He and Cathy will have a burial at sea upon her death.
Read More