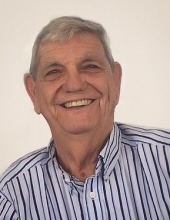 Obituary for Jay Frank Shannon
Jay Frank Shannon, 81, of Land O'Lakes, Florida, passed away Thursday, October 22, 2020 at his home.

Frank was born August 11,1939 in Alma, Georgia to Nathan Dillard and Eva (Wilcox) Shannon. He was preceded in death by wife of 61 years, Brenda (Thornhill) and brother John Walter Shannon. He is survived by brother Nathan Dillard Shannon, Jr. ; seven children: Jay Frank, Jr. (Jennifer), April Cornett (Mitchell), Gary, Amy Griffith (Alvie), Melody Spencer (David), Marcy Guenette (Leonard), and Daniel (Sarah); twenty-four grandchildren: Justin Cornett (Melissa), Tyler Cornett (Amber), Jay Nicholas Shannon (Abigail), Evan Cornett (Lindsey), John Marcus Shannon (Sarah), Shannon Cornett Mendenhall (Kenneth), Analise Griffith (Frank Skaggs), Emily Shannon (William Hallman), Alexander Griffith (Korie), Savannah Spencer Cedeño (Adrian), James Lucas Shannon, Abigail Shannon, Mary Kathryn Kelly(Jacob), Addison Griffith, Jackson Spencer (Allee), Spencer Guenette, Sieanna Shannon, Adler Griffith, Karey Anne Guenette, Connor Guenette, Aiden Griffith, Eliot Shannon, Emory Shannon, Arabella Griffith; and twelve great grandchildren: Emmett Cornett, Caden Cornett, Ian Cornett, Bennett Cornett, Leo Cornett, Isla Cornett, Steele Vinski, Ruthie Cornett, Adelyn Shannon, John Marcus Shannon II, Samuel Cedeño, and Everett Griffith.

Frank graduated from Hillsborough High school in 1958 and the University of South Florida in 1967 with a degree in Electrical Engineering. He also served 8 years duty to his country in the National Guard Reserves. He began his engineering career with a combined 26 years for utility companies TECO and Duke Energy and 14 years as the Electrical Professional Engineer for the University of South Florida Facilities and Planning Department, and then as Principal and co-founder for Emerald Engineering, Inc.

Frank was a loving husband, father and grandfather. He was an active and faithful church member with a heart for missions and supporting church programs. His kindness and willingness to extend help to friends, family and even strangers knew no limits. He had a very strong work ethic and sense of patriotism. Frank loved bluegrass music, teasing and joking with the grandchildren, nature, gardening, boiled peanuts, fresh vegetables and Brenda's fried chicken. He was loved by all who knew him and will be greatly missed.

A Celebration of Life service will be held at 1:00 P.M. Friday, October 30, 2020, at Fellowship Baptist Church, Thonotosassa, with friends invited for visitation with the family at 12:30 P.M. A viewing will be held at 3:15 P.M. followed by a graveside service at 3:30 P.M. Trinity Memorial Gardens, Trinity.

*Fellowship Baptist Church's social distance protocol includes: spaced seating, mandatory mask while moving about, sanitizers, as well as ushered entry and dismissal.
Read More
Previous Events
Visitation
Fellowship Baptist Church
13515 North US Highway 301
Thonotosassa, FL 33592
Celebration of Life Service
Fellowship Baptist Church
13515 North US Highway 301
Thonotosassa, FL 33592
Graveside
Trinity Memorial Gardens
12609 Memorial Drive
Trinity, FL 34655