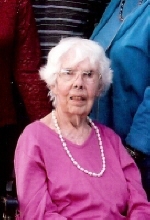 Obituary for Jane Isabel Mulkern
Jane I. Mulkern

MULKERN, Jane I., our beloved Auntie, 92, arrived in Heaven on Wednesday, March 9, 2011. She resided in Brandon, FL for the past 7 years. Born to James and Gertrude Mulkern, on June 24, 1918, in Dedham, MA, where she enjoyed her childhood and teen years. She was a devout Catholic, proud of her Irish heritage and often visited the Emerald Isle. Jane was the younger sister of two brothers, who preceded her in death; Paul C. Mulkern, Tampa, FL and James A. Mulkern, Honolulu, HI. Jane graduated from Dedham High School in 1935, attended Colby College, Waterville, ME and graduated from Boston University, Boston, MA. She earned her Master's degree from the University of Hawaii while teaching English at Radford High School over many years. As a member of St. Mary's Catholic Church, Dedham, MA and Fort DeRussey Chapel in Waikiki, Honolulu, HI, she actively practiced her faith. Upon the death of her parents 60 years ago, Jane left her New England roots and joined relatives in Hawaii. She was a dear and loving lady, a joy to all who knew her; truly "an Auntie", to the children of brothers, Paul and James. Jane leaves, Madeleine Mulkern Davis (Wayne), and Peter F. Mulkern, of the Tampa, FL area, as well as James' children, Kevin Mulkern (Susan) and Brian Mulkern, of Honolulu, HI. Jane also leaves, sister-in-law, Margery Mulkern, Honolulu, HI. Aunt Jane will be missed by Madeleine's children, Jennifer Jane Carlstedt (Jim) and their son, Andrew, Tampa, FL, Patrick T. Davis, Atlanta, GA and nephew, Kevin Mulkern's daughter, Dorothy A. Mulkern, Honolulu, HI. Jane enjoyed tremendous pleasure from the name given to her by Jennifer's son, great-grandnephew, Andrew Davis Carlstedt, who at the young age of five gave her the name "Great-great Jane"! She delighted in it. How perfect! She touched all of us with her simple gentle ways, kindness and laughter. We celebrate her life and are thankful to God for our time with her. Now, she is with those who went before..... What a glorious reunion! With sadness we say, "Aloha, Auntie Jane".

Funeral Information

Services will be private.