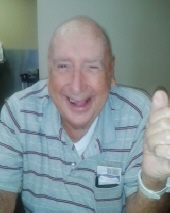 Obituary for James E. Goode Sr.
James "Bud" E. Goode Sr.

Goode Sr., James Edward, 87, of Riverview, FL was called to heaven on Friday March 7th. He was born in Boston, MA and preceded in death by his first wife of 50 and a half years, Grace. He was retired from the United States Air Force having served 25 years active duty. After his USAF career, he obtained a Bachelor of Science degree in Economics from the University of Tampa, next finishing a Masters in Adult Education from the University of South Florida. He then joined the Education Services Office staff at MacDill AFB as a guidance counselor later becoming the Chief Education Services Officer. He served as the Education Officer at MacDill AFB, Zaragoza AFB, Spain and in the Panama Canal Zone. He is survived by his second wife, Joyce Gregory and his children, Maureen Hindmon (Paul), James E. Goode, Jr. (Maria), Thomas Goode (Suzanne), and Denis Goode (Malou), grandchildren, Reenie, JR, Eddie, Vanessa, Jeremy, Ellen, Daniel, as well as many great-grandchildren.

Funeral Information

Viewing will be from 6-8 p.m. on Wednesday, March 12, 2014 at Southern Funeral Care, Riverview Drive followed by a Catholic Mass at 10 AM on Thursday, March 13, 2104 at Resurrection Catholic Church, Krykul Ave.
Read More