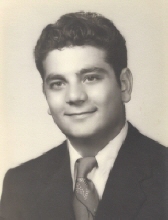 Obituary for James E. Cagnina
James E. Cagnina

CAGNINA, James E., 79, passed away Sunday, June 15, 2014, on Father's Day. Jim was a native of Tampa and resided in the Palmetto Beach and Brandon areas. A graduate of Jefferson High School, he served in the US Navy and US Army, was employed by Reynolds Metals Company, was a Licensed Real Estate Broker and a proud Racing Quarter Horse Owner Trainer. Preceded in death by his son, Devon Joseph; parents Giambattista and Carmela Cagnina; brothers, Ernest, Louis and Joe and sisters, Mary Castellano and Bea Ciaravella, he is survived by his loving and devoted wife of 50 years, Jean; sons, David (Monica Cassano) Farmer, Donald (Pam Lowe) Cagnina; daughters, Diane (Darrell) Hink, Dina Cagnina and Darlene (Jimmie) Jordan; 7 Grandchildren, Jake Justin Jordan, Josh Shannon, Joe Jon Cagnina, Matt and Emily Hink; 2 great-grandchildren, Aniah and Jayden Shannon; sisters, Lillie Rusdal, Rose Luiaconi and Josie Pollock; Sister-in-law, Peggy Cagnina and numerous nieces and nephews. Jim had a great love for animals, agriculture, the outdoors and especially his family and friends. He will be greatly missed by all, including La Tropicana Coffee Club. Casketbearers are Joe and Jon Cagnina, Jake, Justin and Jimmie Jordan, Matt and Darrell Hink and Josh Shannon. Honorary casketbearers are John Shea, John Cagnina, Sam and John Castellano, Brett and Derek Pollock and Jim Wagner.

Funeral Information

Funeral services will be held 11:30 A.M. Friday, June 20, 2014, at Southern Funeral Care, 10510 Riverview Drive, Riverview, with Rev. Marc Mashburn officiating. The family will receive friends one hour prior to services. Interment will follow at Florida National Cemetery, Bushnell. The family will receive friends and family at their home at 5:00 P.M. Friday.
Read More