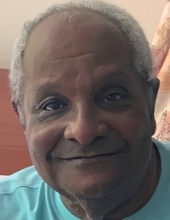 Obituary for James Bertram Irvin
This March 04, 2023, at 11:05 pm, James Bertram Irvin took his final breath and went to his heavenly home surrounded by his loved ones. The sun rose and the world welcomed James on October 08, 1939, in Independence, Missouri, a day the world became a little brighter. James was full of happiness, spunk and determination.
He served his country in the Army Reserves from December 1957 - November 1964. James retired from Allis Chalmers where he worked as a foreman machinist for over 40 years. James was a Christian and Deacon where he attended Sheffield Family Life Center in Kansas City, Missouri. James was a faithful man who loved the Lord, his family, church, and community.

He will be fondly remembered and sorely missed. James is survived by his six children from oldest to youngest. Stephanie M. Williams, Salane M. Preston, James M. Irvin, Mark A. Irvin, Antoinette C. Shannon and Joy B. Ford. His grandchildren, Edward Gomez, Corey Williams, Anthony Williams, Patricia Kinchen, Zakiyyah Ford, Zaire Ford, Maxwell Irvin, KyLee Irvin, Giovonni Irvin, a host of great-grandchildren, great-great-grandchild, relatives, and friends.

James lived a full and warm life, filled with joy. He will be fondly remembered and sorely missed.

No services will be held.

Read More