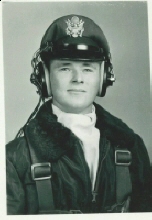 Obituary for Jack Clarence Gay
Jack Clarence Gay

GAY, Major Jack C. (USAF-Retired), 77, of Riverview went to be with his Lord on Wednesday, April 14, 2010. During his 24 year military career, Jack served his country in the Korean and Vietnam Wars as a navigator. He was a life time member of the VFW and DAV and a member of the Imperial Poker Camping Club. Preceded in death by his son, Douglas Allen Gay, he is survived by his wife, Veronica Ashworth; a son, Michael Gay and a daughter, Melissa Cramer, both of Tampa; a daughter and son-in-law, Kim and Darrell Gibas, Wisconsin; his granddaughters, Whitney Cramer, NY, Amanda Cramer and Chealsea Cramer, both of Tampa; a step-daughter Cathleen Petersen and many other step-children.

Funeral Information

Funeral services will be conducted 3:00 P.M. Sunday, April 18, 2010 at Southern Funeral Care, 10510 Riverview Dr., Riverview, with the family receiving friends one hour prior to services. Following the services, there will be a celebration of Jack's life at 10024 Kenlake Dr., Riverview.