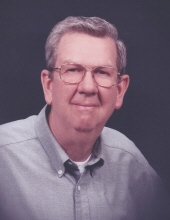 Obituary for J.P. Barnes
J.P. Barnes was born at home on June 19, 1936 in San Angelo, Texas and passed away peacefully with strength, dignity and on his own terms June 9, 2020 in Brandon, FL with his family by his side. J.P. is now reunited with the love of his life, his wife Marilyn Yvonne (Von) Barnes of 56 years of marriage. He is survived and the honored father with sincere love to Robbin Cullaro (husband Doug), Jay Barnes (wife Julie) and Mitzi Toner and as Grandaddy to 6 grandchildren Christina, Katherine, Douglas, Emily, Kenzie and Brianne, 5 great-grandchildren Kaleb, Gavin, Garret, Luke and Olivia. J.P.'s love was conveyed with quiet strength, endless teasing and loyal support as the provider and foundation of his family.

J.P. served in the United States Army from 1957 to1960 where he spent time in Korea working in technology. In 1967, he graduated with the 1st four year graduating class from Angelo State College (San Angelo, TX) with a Bachelors of Science.

J.P. worked for GTE Data Services in San Angelo, Texas starting in the mailroom in 1960, moved to Brandon, Florida in 1972 as part of the GTE Data Services Florida team and retired in management after 31 years. He worked on IBM mainframes and was proficient in computer technology. After retirement from GTE Data Services, J.P. worked many years as a fulltime employee with the Florida State Fair. He enjoyed his yearlong position with the Fair, but his greatest work love was his responsibilities as the "man in charge of the gates" while the Florida State Fair was open each February. Dad's allegiance to his work ethic was recognized often as a dedicated, loyal, honest and outstanding employee which he instilled in his children.

Since 1972, J.P. and his family have been members of St. Andrew's United Methodist Church in Brandon, FL. He had many church friends due to his active membership and dedication to serving in the church as a committed usher, greeter and volunteer. Dad's strong faith in God was expressed with a big heart by silently giving back to others.

J.P. was also an active square dancer with his wife and a member of the Spinning Wheels Square Dance Club. Together, they both volunteered their time with many organizations which included Meals on Wheels, Salvation Army and Hillsborough County Supervisor of Elections where J.P. managed a voter's precinct for many elections.

J.P.'s gentle giant presence of always teasing those he loved will be greatly missed. The love, sense of humor, strength and intelligence he gave and showed to the world will remain in our hearts and carry on through all those he touched. We know Dad is thrilled and elated to be back in the arms of his loving wife and to be reunited with his loving family whom he dearly missed Clinton Phillip (C.P.) and Hertha Barnes (his parents), Louise Gorman (sister), Melvin Barnes (brother), Richard Barnes (brother), Don Gorman (brother-in-law), Leon Mabry (father-in-law) and Tommie Scott (mother-in-law). God is lucky to have J.P. and we are all blessed and honored to have had Dad in our lives.

A Celebration of Life Service will be held Saturday, June 27, 2020, at 10:00 A.M. at St. Andrews United Methodist Church, 3315 S Bryan Rd., Brandon, FL 33511. It is mandatory for those attending the service must wear a face mask. A Live Stream of the service is available by clicking this link: https://saumcbrandon.online.church/

In lieu of flowers, donations can be sent in J.P. Barnes memory to: Florida United Methodist Children's Home, https://www.fumch.org/making-a-difference/make-a-donation/
Or
Superior Residences of Brandon, 1819 Providence Ridge Blvd., Brandon, FL 33511.
Read More
Previous Events
Celebration of Life Service
St. Andrew's United Methodist Church
3315 South Bryan Road
Brandon, FL 33511
It is mandatory for those attending the service must wear a face mask. A Live Stream of the service is available by clicking this link: https://saumcbrandon.online.church/
Memorial Contribution
Superior Residences of Brandon
1819 Providence Ridge Blvd.
Brandon, FL 33511