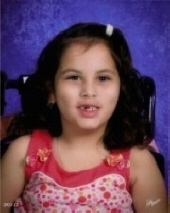 Obituary for Isabella Rose Herrera
Isabella Rose Herrera

HERRERA, Isabella Rose, 7, of Riverview, passed away on Thursday, January 26, 2012. A native of the Tampa area, she was a member of Brownie Troop #714 and was associated with the Muscular Dystrophy Association. She is survived by her parents, Dennis and Lisa Herrera; brothers, Jayson Pomsyda and Cullen Touchton; sisters, Bryanna Pomsyda and Ava Herrera, all of Riverview; paternal grandmother, Sheila Herrera; paternal great-grandmother, Lillian Aaron, both of Sun City Center, FL; maternal grandparents, Ronald and Rose McMasters, Roseville, CA and maternal grandmother, Somying Hardin, Santa Rosa, CA.

Funeral Information

A Memorial Service will be held 1:00 P.M. Sunday, January 29, 2012, at Southern Funeral Care, 10510 Riverview Drive, Riverview, with a reception to follow. The family is requesting that all who attend should wear "pink".