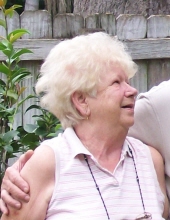 Obituary for Ingrid Margarete Karaffa
Ingrid M. Karaffa (1936-2021)
With heavy heart, the Karaffa family announces the passing of Ingrid Karaffa, beloved wife, mother, and grandmother, at her home in Valrico FL on 18 February 2021. Ingrid was born on 15 June 1936 in Halle Germany to Kurt and Margarete (Thicketier) Bauch. She was the oldest of four children. Her siblings are Peter, Karin, and Dagmar. Ingrid grew up in Halle and the relative calm of the forest near Dessau Germany during and immediately after WWII. She escaped with her siblings to West Berlin from Soviet-occupied eastern Germany in 1952. Ingrid earned her Abitur from Tempelhof Gymnasium and then made her way west ultimately to Bitburg Germany where she became an apprentice photographic darkroom technician.
In June 1961, Ingrid married William (Bill) Karaffa, an American airman stationed at Bitburg AFB. While in Germany, Ingrid gave birth to two children: Steve and Helen. Peter, her youngest child, was born in Riverhead NY. The Karaffa family moved to the United States in 1963. Ingrid lived the itinerant life of a military spouse with stops in Germany, Alexandria VA, West Hampton Beach NY, Syracuse NY, Petersburg VA, Tacoma WA, Anchorage AK, Mt Pleasant PA, Adana Turkey, and Brandon FL.
Ingrid spent most of the 1960's raising three children at home as a military spouse and was a temporary single mom when Bill was deployed to Vietnam in 1967-68. In the 1970s, she returned to the workforce excelling in a retail career with AAFES. Later in life, Ingrid volunteered for several organizations in the Tampa area largely supporting military families and the elderly.
Ingrid loved her husband and family above all else. When not managing the daily family routine, she loved getting together with close friends to play cards. Ingrid and Bill were a formidable team on Friday nights playing against their friends the Monti's and the Hassler's.
Ingrid rarely dwelled on the past. But late in life, she lamented her inability to keep her siblings together. Soon after their arrival in West Berlin, Ingrid's youngest sister, Dagmar, who was 5, returned to Halle due to her age. Dagmar went to live with their grandmother, who soon afterward passed away. Dagmar was then raised in an orphanage. Ingrid and Dagmar did not see each other again until 1988. Since that date, Ingrid kept close contact with all her siblings in Germany and visited them regularly.
Ingrid was stoic in nature. She was the very definition of grit. She set an example for others through her actions. When she offered a rare opinion or piece of advice, it was best to heed it. She emphasized three things overall: Family, Hard Work and Education. When asked recently what she thought of her life, she said, "It was better than I had ever imagined."
Ingrid is survived by her husband: Bill; three children: Steven (wife, Michelle), Helen Wimberly (husband, Curtis), and Peter; and eight grandchildren: Max, Nikolas (wife, Bianka), Hannah, Johannes, Austin, Willem, Michael, and Faye.
A private family service will be held in Sarasota FL.
Read More
Events
Cemetery Details
Location
Sarasota National Cemetery
9810 State Road 72
Sarasota, FL 34241