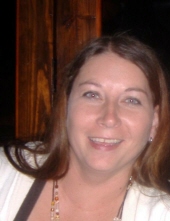 Obituary for Holly Marie Dittebrand
Holly Smith Dittebrand, 41 of Ruskin, FL peacefully passed away,
Sunday May 20, 2018 in Ruskin, FL at home with her family by her side.
She was born in Tampa, FL to parents Larry and Debbie (Dittebrand)
Smith.
Holly always thought of others first and loved to celebrate life. She
was passionate about family and friends, sharing an open heart and a
genuine smile with everyone. She loved sitting by the fire, listening
to country music, and riding on the Rhino side-by-side. She was a
softball player in high school and an avid follower of sports; the
Bucs, Rays, Gators, Seahawks, and NASCAR.
She was preceded in death by her birth parents Debbie (Dittebrand) and
Larry Smith, her Grandmother (Grammy) Edith Munyan, and Grandfather
Harvey L. Dittebrand.
She is survived by her loving mate and life partner, Skip Yeatman, his
sons, Joey (Rebecca) + (Alana) Yeatman, Jesse (Jamie), (James), +
(Jennifer) Yeatman and cousin Nykole Smith.
Adoptive parents since the age of eight; Lamar and Kathy Dittebrand,
sisters; Lisa (Terry) Golden and Amanda Melanson, brothers; Thomas
(Lyndsey) Dittebrand and Clayton (Tami) Devinney, Grandparents;
Dolores and Gene Church, Jack Munyan, and Evelyn Sidell.
Aunts and Uncles; Rick (Vicki) Dittebrand, Tom (Debbie) Dittebrand,
Brenda Salisbury, Robin Chesser, Wayne (Paula) Sidell, Tommy (Rita) Smith, Charlotte
Zabihian, and Nancy (Hoyt) Cox and numerous cousins.
A celebration of life is scheduled for June 2, 2018 at 3:00, 3223 41st
Avenue SE Ruskin, FL. All are welcome to attend and celebrate Holly's
life. The family would like to thank Skip Yeatman for his constant
care and dedication to Holly's happiness. We will forever be
grateful.
Read More
Previous Events
Celebration Of Life Gathering
Holly Dittebrand Celebration
3223 - 41st Avenue, SE
Ruskin, FL 33570
Memorial Contribution