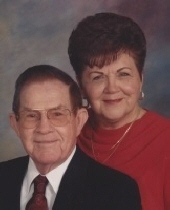 Obituary for Helen Jane Powell
Helen Jane Powell

POWELL, Helen Jane, 90, of Tampa, passed away on Tuesday, December 22, 2015. A native of Valparaiso, FL, she was a life-long resident of the Tampa area and was a member of Bell Shoals Baptist Church, Brandon. She is survived by her sons, Roy (Tammy) Powell, Harold (Luwanna) Powell, Dallas (Milene) Powell, Milton (Ruth Ann) Powell and Nathan (Mary) Powell; daughters, Cynthia (Joe) Newsome and Ruth Ann (Lance) Akridge; brother, Bobby Morrill; 18 grandchildren and 24 great-grandchildren. The family wishes to thank the staff of Ava Care for their help and support.

Funeral Information

POWELL, Roy A., Sr. and Helen Jane, who passed away on September 25, 2013 and December 22, 2015, will have a Celebration of Life service at 12:00 P.M. Monday, January 11, 2016, at Bell Shoals Baptist Church, 2102 Bell Shoals Rd., Brandon.
Read More