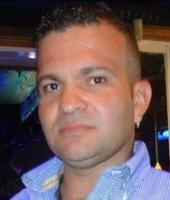 Obituary for Heiner Estrada-Gonzalez
Heiner Estrada-Gonzalez

ESTRADA-GONZALEZ, Heiner, 39, of Wimauma, passed away on Wednesday, April 17, 2013. A native of Costa Rica, he had resided here for 13 years coming from New Jersey. He was a carpenter, loved riding motorcycles and attended Blessed Sacrament Catholic Church, Tampa. He is survived by his mother, Noily Gonzalez; 2 brothers, Yen Arturo Estrada Gonzalez and Javier Estrada Gonzalez; sister, Marcela Estrada Gonzalez and several cousins.

Funeral Information

A Funeral Mass will be celebrated 2:00 P.M. Saturday, April 27, 2013, at Resurrection Catholic Church, 6819 Krycul Avenue, Riverview. The family will receive friends Saturday, April 27, 2013, from 11:30 until 1:30 P.M. at Southern Funeral Care, 10510 Riverview Drive, Riverview. Final services and burial will be in Costa Rica.