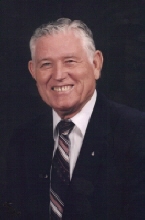 Obituary for Haskell G. Gray
Haskell G. Gray

GRAY, Haskell G., 83, of Brandon, passed away on Tuesday, August 19, 2008. The son of Oscar Gray and Irene Wheat, he was born in Warrenville, S.C. on September 24, 1924 and was a loving husband, father, and grandfather. He held a CLU degree and worked as a regional manager for Southland Life Insurance for 36 years, later serving as a trust officer for the Hillsborough Bank. He loved gardening and music and was dedicated to the building of the First Baptist Foundation. He is survived by wife of 66 years, Lucille Baynham Gray; daughter, Glenda Gray Stevens; sisters, Irma Renew and Frances Whittle; brother, Freddie Hubert; granddaughter, Cynthia Stevens-Gries and husband Robert Gries Jr.; grandson, Craig Gray Stevens and wife Shelly Brantner Stevens; and great-grandchildren, Zoë Gries and Krista Stevens.

Funeral Information

Funeral services will be conducted 11:00 A.M. Saturday, August 23, 2008, at the First Baptist Church of Brandon with the family receiving friends one hour prior to services.