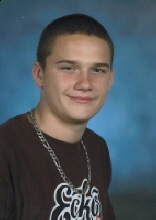 Obituary for Halen Brett Sawyer
Halen "Bo" Brett Sawyer

Sawyer, Halen "Bo" Brett, 16, of Valrico/Riverview, passed away on Wednesday, October 06, 2010. He was born in Panama, lived in Tennessee, but spent most of his years in Florida, and considered it his home. Halen was preceded in death by his paternal grandfather, Fred Sawyer. Survivors include his father and step-mother, Brett (Nadene) Sawyer; his mother and step-father, Shelia (Jason) Rawlings; grandparents, Judith Ackerman, Linda and Wally Peterson; brother Jackson Sawyer; sister Zoey Hope Rawlings; cousins Jarrett, Kole and Trever Peterson; Halen leaves behind countless relatives, friends and extended family. Although Halen was only here for a short 16 years, his infectious smile and beautiful soul left a lasting impression on anyone that was fortunate enough to have met him.

Funeral Information

Funeral services will be conducted 1p.m. Saturday, October 9, 2010 at Simmons Loop Baptist Church, 6610 Simmons Loop, Riverview, with the family receiving friends 2 hours prior to the service. Interment will be at Fellowship Cemetery, Wimauma.