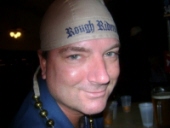 Obituary for Greg Kenneth Schneider
Greg K. Schneider

SCHNEIDER, Greg K., 52, of Riverview, passed away on Friday, September 27, 2013. A native of Elizabeth, NJ, he had resided here since 1993 coming from Arlington, TX. He was a member of the Brandon Masonic Lodge #114, FAM, Tampa Bay Rough Riders and the XChange Band. He is survived by his father, Frank Schneider; mother and step-father, Elaine and William Simone; the love of his life, Cheri Ray; her son and daughter, Bryan (Danielle) Ray and Melanie (Jon) Sunday and grandchildren, Karlee and Gavin; brother, Wade (Sherolyn) Schneider; sister, Brenda (Bryan) Schneider Hantsche and many nieces and nephews.

Funeral Information

Funeral services will be held 6:00 P.M. Tuesday, October 1, 2013, at Southern Funeral Care, 10510 Riverview Drive, Riverview, with the family receiving friends from 4:00 until 6:00 P.M. Brandon Masonic Lodge #114, FAM will conducted Masonic services.